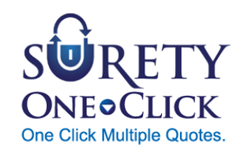 ...clearly surpassed any other bond purchasing system in the marketplace.
Dallas, Texas (PRWEB) January 13, 2014
Surety Solutions, LLC today announced the launch of "OneClick," a real-time online surety bond comparison platform which offers the first and only nationwide surety bond comparison engine. OneClick, much like Kayak (Travel) and "The Zebra" (auto-insurance), provides quotes from several surety bond companies all in one place instantly so consumers can quickly and comprehensively find the best surety bond rates on the market.
Comparative insurance engines have been utilized in the UK for over 10 years (http://www.confused.com/about-us) but are just now beginning to cause a disruption in the US insurance industry. Time will tell if The Zebra and Surety Solutions, LLC become the household names for comparison shopping in their respective niches of the insurance industry.
The OneClick online platform presents quotes from more than 30 of the nation's top surety bond companies so consumers, no matter their location, can select from real-time quotes that best fit their need. By utilizing new comparative engine technology, Surety Solutions, LLC is exposing surety bond customers to cheaper rates and a level of transparency never before experienced in the industry.
"After many years in the surety bond industry, I have found that principals, local agents, and large brokers are all looking for the same thing--a simpler way to execute surety bonds," said Corban Enns, Founder/President of Surety Solutions, LLC. "We have been working for the past several years to develop this software out of the conviction that buying a surety bonds shouldn't have to be a laborious and time consuming process. OneClick provides today's consumers with a unique experience that is faster, easier, and more comprehensive than anything they have encountered previously." In 3-4 minutes, consumers can work through a few brief data-entry fields and will promptly receive instant real time quotes from up to 30 surety bond companies to meet their individualized needs.
"I have been working in the commercial surety industry for decades and have been actively searching for an agency that understands the benefits of utilizing automation and common sense in producing, underwriting and servicing this product. Surety Solutions has grasped these concepts and designed and implemented a system that is light years ahead of any other agency system that I have seen," said Hellen A. Lally, an underwriter with the Westfield Group. "They have clearly surpassed any other bond purchasing system in the marketplace."
Surety Solutions, LLC has built the necessary relationships with the leading surety bond companies to ensure that not only that the surety bond purchase process is easy, but comprehensive in terms of price comparisons so that consumers can confidently purchase at the best rates available.
About Surety Solutions, LLC
Surety Solutions, LLC, is a surety broker and digital software developer with a focus on the Surety Bond Industry. Founded in 2002, Surety Solutions, LLC aims to simplify the surety bond purchasing process for principals, local agents, and large brokers through the first and only comparative engine in the Surety industry, a breadth of surety bond carrier relationships, and intuitive software that allows consumers to find the correct bond, compare rates, purchase and manage their Surety Bond all in the same place.
For more information, please visit http://www.suretysolutionsllc.com/OneClick.
Follow Surety Solutions LLC on Facebook, Twitter, Google +.
Video: "Surety Bonds Made Easy" http://www.youtube.com/watch?v=whSEGLxEorw
Contact
To learn more about this story, please contact:
Duke Revard, Media Relations
9400 N. Central Expressway. Ste. 305
Dallas, TX 75231
Office: (855) 371-2192
duke(at)suretysolutionsllc(at)com