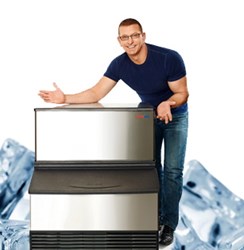 "Our business focuses on making sure our customers' ice machines are working 24 x 7, so we're used to late night calls," said John Mahlmeister, CMO of Easy Ice "but this one was a significant challenge."
Gwinn, MI (PRWEB) December 31, 2013
This Holiday season, Easy Ice is proud to get into the spirit of giving by highlighting a few recent contributions to charitable causes.
Easy Ice recently donated a new ice machine to a firehouse in Ship Bottom, NJ that had sustained heavy damage during Hurricane Sandy. The donation was made on short notice at the request of Easy Ice brand ambassador, Chef Robert Irvine. Chef Irvine chose to restore the firehouse over the holidays in recognition of the spectacular efforts of the firefighters in the wake of Sandy, and their great significance to the community that they serve.
"It was an amazing time of giving and Easy Ice delivered the ice machine when I needed it most," said Chef Irvine. "We couldn't do the unveil without a working ice machine. It was 6:00 p.m. and I needed a new ice maker delivered and installed by 7:30 a.m. the next morning. I called Easy Ice because in my experience they are the only ice machine service company that could pull this off."
Easy Ice's status as the sole ice machine subscription company with nationwide distribution made the seemingly impossible, possible.
"Our business focuses on making sure our customers' ice machines are working 24 x 7, so we're used to late night calls," said John Mahlmeister, CMO of Easy Ice. "But this one was a significant challenge.  Ship Bottom is not exactly near a major metro area, but we were determined to make it happen."
Easy Ice also donated ice to the Palm Beach Food & Wine Festival, one of the nation's premier culinary festivals held for the benefit of many different charities. The festival was held from December 13-17, and was attended by many of the top celebrity chefs in the culinary world.
"Two of our signature events are held at venues without ice-making capability, and it is impossible to host a South Florida food event without ice," said David Sabin, festival organizer. "Many of our participating chefs trust Easy Ice to handle their ice requirements, so I was confident they would take that hassle off my plate."
"Robert Irvine, Marc Murphy, Marc Vetri, and their friends donated their time and talent to raise money for people in need," said Mahlmeister. "We are happy to handle the ice so they can focus on what they do best."
About Easy Ice
Easy Ice is the only national provider of ice machine subscriptions. Partnerships with Ecolab, Hoshizaki and Reddy Ice uniquely positions Easy Ice to deliver their innovative solution at the local and national level.
The Easy Ice end-to-end solution saves owners thousands of capital dollars and hours of hassle - enabling them to invest in revenue-generating assets. The all-inclusive subscription service features Hoshizaki ice machines, repairs, maintenance, water filters, cleanings, replacement ice and more. With no long-term lease and the flexibility to upsize the equipment, Easy Ice guarantees they'll earn your business every day. For more information about Easy Ice, please visit: http://www.easyice.com.  
About the Palm Beach Food & Wine Festival
The Palm Beach Food & Wine Festival is produced by Brickhouse Public Relations with support from community partners Discover the Palm Beaches, Panache: A Classic Party Rentals Company and Premier Beverage. 2014 marks the festival's eighth season of food events that highlights the best of the Palm Beaches and offers a unique culinary experience featuring local chefs and businesses working alongside prominent chefs and sommeliers. 
For more information about the festival, visit http://www.pbfoodwinefest.com or (855) 428-7849. All net proceeds benefit charities recognized by the festival's Chefs Dish Back foundation. The 2013 festival benefited American Red Cross, Palm Beaches – Treasure Coast Region, Feeding South Florida, James Beard Foundation, Share Our Strength, and Alex's Lemonade Stand.
For more information about Easy Ice please contact: 
Heidi Alberti 
916 850-9519 
halberti(at)easyice(dot)com