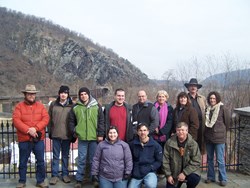 Waterford, VA (PRWEB) January 01, 2014
There is still time to register for a unique class offered through Northern Virginia Community College's Loudoun Campus. History 205—Local History Seminar and Project—allows participants to experience history within the Journey Through Hallowed Ground National Heritage Area, a 180-mile swath of land that runs from Gettysburg, PA to Thomas Jefferson's Monticello in Charlottesville, VA. The course meets on Wednesday evenings beginning January 15, running through April 24th. Each week, the course will explore a different facet of our local history and its historic landscapes.
History 205 will discuss creative ways to view historic sites and their uses, and to consider ways to hurdle the many roadblocks in our way when desiring to extend our learning and that of our students beyond the classroom. Field trips will demonstrate just what these historic sites can do to change how we view our own back yards. Participants will walk along the Underground Railroad, examine early 19th century industrial technology, sit on the floor of the Kennedy farm house where John Brown crafted the Harpers Ferry Raid, explore the haunted battlefield of Ball's Bluff, relive an historic ambush by Mosby and his Rangers, hike through the Quaker landscape once known as "Goose Creek", visit sites crucial to the struggle for Civil Rights in Loudoun County, and much more. In addition, course participants will adopt a local historic site for their classroom, for their personal studies, or for the civic group in which they are involved and begin to develop ways to make use of this site to bring a greater understanding of history.
Participants must be over the age of 18. To register for the class, visit http://www.nvcc.edu. The three-credit college course costs $459.75 for Virginia residents and scholarships are available from the Journey Through Hallowed Ground Partnership for public or private school history teachers.
The instructor for the course is Rich Gillespie, who serves as director of education for the Mosby Heritage Area Association. For specific questions about the course, contact Rich Gillespie at (540) 687-5578 or at rgillespie(at)mosbyheritagearea(dot)org. For general information, visit http://www.HallowedGround.org/education.