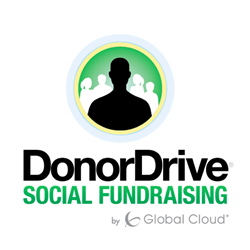 Organizations come to DonorDrive because their participants can raise money in an easy way with a system that's very user friendly and easy to understand.
Cincinnati, Ohio (PRWEB) December 30, 2013
Nonprofits using DonorDrive saw a 34% increase in overall growth in 2013 and the coming year looks even brighter for organizations that are fundraising through the industry's most innovative software. DonorDrive's innovations are developed through on-going collaboration with clients, which uniquely positions it for better fundraising in 2014. Features like built-in responsive design and the industry's first Fundraising Motivation Engine™ are a big part of what's powering DonorDrive clients in getting more donations.
Ed Lord, Vice President of Client Growth and Consulting at DonorDrive and former Senior Vice President at the American Cancer Society, notes that for 2014, and further into the future, success of nonprofits will depend on their fundraising flexibility: "With the direction that nonprofit fundraising is going, organizations have to be adaptable. However supporters wants to raise money, you have to be able to meet them with software that can flex to their creativity. The more options they have, the more money you'll raise and the better you'll do as a nonprofit."
Amy Fecker, Account Associate at DonorDrive and former Events Coordinator with the Alzheimer's Association, feels that traditional methods of fundraising have to be supplemented: "There's only so much you can raise from a walk year after year. Third party events, especially challenge events, are huge right now. They're a really effective way to add to another revenue source without having to do as much work as signature events require. Challenge events, like big marathons, are already set up. Someone else is creating the event and you're piggybacking off it with your supporters raising the money for you."
Amy also notes that 2014 will see nonprofits becoming familiar with the term "responsive design" as the leading philosophy for better mobile fundraising: "If a donor gets an email on their phone asking their support and the font is so small they can't read it, or the donate button is too small to press, the organization is likely to lose that donor. With half of all email opened on mobile devices now, their fundraising software must make email communications and donation pages mobile friendly or the nonprofit can really be losing out."
After DonorDrive implemented responsive design as part of the software for every client, mobile donation dollars almost doubled.
As we move into a new year where nonprofits expect more of their dollars to shift to online fundraising, Ed feels that DonorDrive's focus on making every aspect of the fundraising process easy gives the software a distinct edge: "Organizations come to DonorDrive because their participants can raise money in an easy way with a system that's very user friendly and easy to understand. The Fundraising Motivation Engine automatically communicates with participants, to coach them to fundraise."
###
DonorDrive® is truly effective software dedicated to event-based social fundraising for medium and large nonprofits. Children's Miracle Network Hospitals, Doctors Without Borders, World Vision, JDRF Canada and Team ASPCA are a few of the causes that use DonorDrive Social Fundraising software for their runs, walks, rides and virtual campaigns to engage constituents and maximize donations. Every year, people are raising millions for great causes through DonorDrive. Learn more at DonorDrive.com.