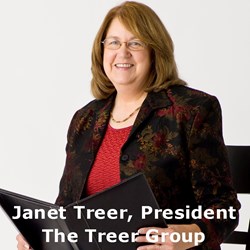 LinkedIn is the most powerful social media platform for business today. It is invaluable for job search.
Lancaster, PA (PRWEB) December 31, 2013
Janet Treer, President of The Treer Group, will be leading a mini work-shop on how to utilize LinkedIn to execute a more effective job search at the BENG Career Fair, January 23, 2014. The free event will take place from 5:00 p.m. to 9:30 p.m. at Pennsylvania Institute of Technology in Media, PA. Register.
"LinkedIn is the most powerful social media platform for business today, and it can be leveraged in many ways to strengthen positioning and prospecting in the marketplace," says Treer. "It is especially effective when conducting a job search. This session and Career Fair will be invaluable to any executive or manager in the job market."
In addition to providing basic background on using LinkedIn, the session will discuss how to Use LinkedIn for research, how to find Jobs on LinkedIn, how to use LinkedIn for warm introductions to key people and more.
"We will pack as much tangible, ready-to-use information into our session as possible," says Treer. "It will be a powerful session. The Treer Group is also hosting an exhibit, focusing on career transition services."
The Fair is a 4-hour program designed to help mid- to senior-level professionals who are "in transition" or might be looking for a new opportunity in the near future.
The program will include:

Breakout Sessions related to career transition topics
Complementary 10-minute Resume Review Service
Career Transition Services Information
Information about other Networking Groups
Networking Opportunities
There will be 12 breakout classes related to job transition processes and strategies. Each session will be 30 minutes long.

Job Search Fundamentals
Using LinkedIn in Boosting your Job Search - The Treer Group/Janet Treer session
Crafting your Elevator Speech
Interviewing Out of the Box
Assessing your Skills for the Current Marketplace
Optimizing your Job Search with Twitter
Becoming a Master Networker
Leveraging Recruiters in Your Job Search
Owning your Own Business
Building your List of Target Companies
The Dreadful Application Process: Best Practices & Tips to Beat the ATS
Maintaining Motivation in Your Job Search
This Career Fair is presented by BENG (Business Executives Networking Group), a membership-based not-for-profit group dedicated to supporting and assisting individuals in career transition. BENG is comprised of over 1100 employed, unemployed and self-employed professionals and has chapters in south central Pennsylvania, northern Baltimore, Washington, DC, New Jersey and Delaware.
The BENG Career Fair takes place Thursday, January 23rd, 2014, 5:00 p.m. to 9:30 p.m., at Pennsylvania Institute of Technology, 800 Manchester Avenue, Media, PA. Free registration at https://www.surveymonkey.com/s/6QY2272
Subscribe to Management Updates, The Treer Group's monthly bulletin.
About The Treer Group:
The Treer Group provides coaching, assessments, tools and guidance to help organizations and individuals identify areas in need of improvement, discover practical solutions and implement long-lasting change that comes from within. Janet Treer, President, founded The Treer Group in 2007.