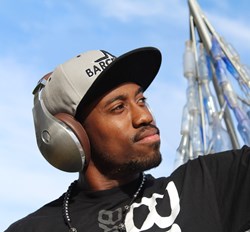 Morgan Hill, CA (PRWEB) December 31, 2013
Velodyne, manufacturer of the new vQuiet® premium noise-cancelling headphones and a complete line-up of high-quality audio products, today announced it has signed Oakland Raiders punter Marquette King to its vSeen® social media Brand Ambassador program.
King will join a growing list of notables from the worlds of entertainment and sports. Already featured on Velodyne's Celebrity Spotlight are brand ambassadors Ashanti Floyd of the band Symphony Crack; Finish Ticket, a Northern California indie band that recently sold out San Francisco's Great American Music Hall; and The Mowgli's, an 8-piece alternative band from Southern California recently featured at the Austin City Music Festival in the Texas capital. Other Velodyne brand ambassadors include Kansas City Chiefs defensive back Brandon Flowers and Baltimore Ravens safety Matt Elam and The Happyness, an emerging band from the U.K. Additional celebrities, athletes, musicians and others will be announced in the weeks and months ahead.
Velodyne headphones are prized by style-conscious celebrities and fashionistas, professional athletes psyching up for the big game and musicians who rely on them to achieve peak performance on stage or in the recording studio. Increasingly, they also are showing up on or in some pretty famous ears in photos and videos posted to the likes of Twitter, Facebook and Instagram.
"Social media offers new ways for brands and fans to interact with celebrities, athletes, fashion models and emerging musical and other artists who choose Velodyne headphones to help them do what they do – better, or with greater enjoyment," said Marta Hall, Velodyne President and a well-known sculpture artist in her own right. "The vSeen campaign leverages social media to bring visibility to the famous or almost-famous who use Velodyne-branded audio products and creates new ways to interact with their fans – and introduce fans to Velodyne headphones."
See Velodyne at 2014 International CES, in Las Vegas Jan. 7-10, 2014.
About Velodyne
Founded in 1983 and based in California's Silicon Valley, Velodyne, Inc. is a diversified technology company known worldwide for its high-performance audio equipment and high-definition LiDAR sensors for autonomous vehicle applications. The company is widely recognized as the leading manufacturer of high-performance, low distortion powered subwoofers and an expanding line of technically innovative in-ear and over-ear audio products with interchangeable custom-designed skins that enable audiophiles to personalize the look of their headphones. Velodyne products are available online at http://www.velodyne.com and from a select group of authorized dealers, custom installers and distributors worldwide. Since 2007, Velodyne's LiDAR division has emerged as a leading developer, manufacturer and supplier of high-definition LiDAR sensor technology used in a variety of commercial autonomous vehicle applications, including 3D mapping and surveying. For more information, visit http://www.velodynelidar.com.