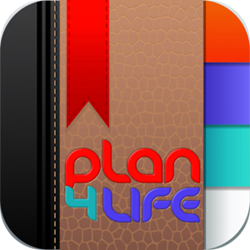 We believe that shared planning will be the next trend of productivity mobile application development. Plan4Life App's traction in the market place is growing and we see 2014 as our biggest year! - Founder John Koncurat
Austin, Texas (PRWEB) January 02, 2014
Appilicious App Development Company is releasing a new calendar-sharing feature for their Day Planner app called "Plan4Life". The digital scheduler is universally compatible for iPhone and iPad and syncs with iCal, Outlook, Yahoo Cal and others. The sharing feature is a huge step for the trajectory of the app that was just released in March of this year. With this addition, Plan4Life will reach a new and larger market of busy families and business professionals.
Appilicious, which is headquartered in downtown Austin, Texas, developed Plan4Life to stand out from its competitors. This was achieved by giving the user, for one low price, an impressive list of combined functions as a day planner, list creator, reminders tool, to-dos, money management section, and journaling. The new sharing feature will be released in early 2014 to meet the demands of the market. Appilicious has stayed focus on implementing customer feedback and trends like sharing that allow all users with the app the opportunity to view their connected contacts' calendars in seconds.
Although the idea of a shared calendar is still new to many people, Appilicious is approaching this feature like it would the more familiar format of a social network. The focus is on facilitating the ability of each user to connect to their friends and family in a new way, and thus utilizing their community to help reach goals.
Shared calendaring will have real benefits in a variety of day-to-day areas from entertainment and social events to business management, personal organization and family planning.
There is no better time than a fresh new year to get organized. Purchasing a digital day planner for a trusted Apple product is an easy step to get the ball rolling in 2014. But before deciding on which product to go with, remember a few of the benefits and essential features when using an intuitive digital planner:
1) quickly see all tasks and events at a glance
2) easily schedule new events and save tasks one does often
3) setup reminders for all of those tasks that get put off
4) pocket sized; the lack of mobility with desk or wall calendars is not practical for an on-the-go lifestyle
5) focuses attention on setting and meeting deadlines
6) stay on track with the ability to check off completed tasks
7) manage time and relationships better
Appilicious took these seven basic ideas and brought them together in one app to change the image of planning. Moving beyond the stagnant paper agenda of day planners of the past, Appilicious crafted a unique app tailored for today's world rooted in touch screen interactivity. Plan4Life has been built to service user's needs by utilizing the latest technology to make keeping a planner sensible and easy.
Plan4Life Daily Planner is now available for $4.99 in the USA and is priced accordingly in other regions. The app is available for download to Apple iPad or iPhone with O.S 6.1 and above. The company is 100% committed to taking customer feedback to keep up with the unique demands of the marketplace.
Plan4Life App is developed by Appilicious, a mobile development company founded in 2010