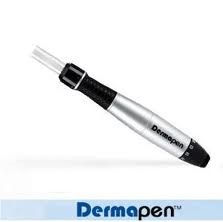 I still have it because I've been really happy with the result. Not just for the scar, but the overall result. The way it increases and stimulates the collagen in my skin. It kind of gives me a more plump feeling, a really nice glow all over.
Philadelphia, PA (PRWEB) January 07, 2014
Dermapen Fractional Micro Needling Skin Therapy, the advanced skin treatment popular on the west coast and in Europe, is now available at W Cosmetic Surgery.
This innovative micro needling technology, also called fractional mechanical resurfacing, has been clinically proven to dramatically minimize most skin imperfections such as acne scars, surgical scars, fine lines, wrinkles and stretch marks.. The Dermapen is specifically designed to provide a non-invasive treatment that can revitalize dull, rough or blotchy complexions for a smoother, tighter, and more youthful appearance.
Dermapen works by using a pen-like device containing micro needles to create a series of minor vertical, yet penetrating, stamps. The micro needling effect induces critical collagen production—which depletes with age—and stimulates cell regeneration. By simulating the body's own natural healing process, the skin rebuilds itself to a thicker, smoother, more even and tighter skin texture than previously. Peptide and hyaluronic acid-based serums are applied to the skin throughout the micro needling session for a deeper absorption. The procedure time is short and patients typically have 3 to 5 sessions.
The Dermapen procedure is performed in our W Skin Studio by experienced, licensed medical aesthetician Gina Veith. "At W Cosmetic Surgery, it's a signature treatment because I've been doing it for a long period of time in this area. Microneedling is a great technique and treatment that triggers your skin's healing, natural healing response, to then build collagen under the skin." explains Ms. Veith.
In addition to Dermapen, many less invasive treatments are available at WSkin Studio, including nonsurgical lasers, injectable fillers, and peels.
About Dr. Allan Wulc
Allan Wulc, MD, FACS, is a Quadruple Board Certified Surgeon with over twenty five years experience in cosmetic and plastic surgery. He is an experienced specialist that students, news outlets, and fellow surgeons turn to regularly for insights into the field. He was trained and educated at the University of Pennsylvania School of Medicine, completed his residency at the University of Pennsylvania, and completed two fellowships at the University of Arizona and in London at Moorfields Hospital. He is an associate clinical professor at the University of Pennsylvania and Drexel University, and has been selected to Castle Connolly's Best Doctors in the World list for the past fifteen years. He is recognized locally and nationally as an expert in eyelid and facial cosmetic surgery, and is licensed to practice in New York, California, Pennsylvania, New Jersey, Florida, and Arizona.
Schedule Your Consultation with W Cosmetic Surgery
For more information about Dermapen Fractional Micro Needling Skin Therapy at our W Skin Studio, please visit http://www.wcosmeticsurgery.com or call (610) 828-8880.