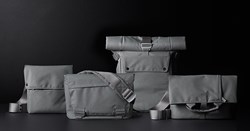 Pasadena, California (PRWEB) January 15, 2014
Proving life isn't just black and white, Bluelounge today introduces grey to its Eco-Friendly bag series. Understated and hardwearing, the Bluelounge Eco-Friendly bag series is now available in a brushed aluminium color with solid aluminium hardware that seamlessly integrates and coordinates flawlessly with devices ranging from iPads to laptops.
"The customer is at the heart of everything we do at Bluelounge," said Dominic Symons, Bluelounge Founder and Creative Director. "We've hand-picked the color and styles for this release to reflect precisely what our customer has asked for – and it's awesome."
Made to fit hardware like a glove, Bluelounge has taken every detail into account to make sure it's perfect. Select styles including the Backpack, iPad Sling, Messenger Bag and Postal Bag are available in the new grey color.
Made of 100% recycled PET bottles, the series is earth-friendly, helping to reduce the amount of waste put into landfills each year. The series utilizes the highest quality materials and features a coated fabric that provides moisture resistance to keep gadgets protected in all weather conditions.
Bluelounge Eco-friendly Bags are available in Grey as well as Rust and Black at a suggested retail price ranging from $44.95 - $159. Bluelounge products are currently available online and at select retailers worldwide. To find a retailer nearby, please visit our store locator.
For more information on Eco-Friendly Bags and other Bluelounge products, visit http://www.bluelounge.com. You can also follow Bluelounge on Twitter and on Facebook for the latest news on Bluelounge products.
About Bluelounge
Bluelounge is an award-winning, international design studio known for its clever products that solve everyday problems through design.
Each product is designed to provide an effortless solution that stands the test of time and integrates into your life so seamlessly, you can't remember living without it.
Under the creative direction of Dominic Symons, the Bluelounge team is a vibrant collective that champions ingenuity and embraces creativity to fuel innovation.
Bluelounge is headquartered in Singapore, with studios in Jakarta, Indonesia and Pasadena, California.
Note to reporters: High-res images are available here: http://www.bluelounge.com/media.
Media Contact:
Kaitlin McIntyre Hawk
Bluelounge
P | 626.564.2802 ext. 706
kaitlin(at)bluelounge(dot)com