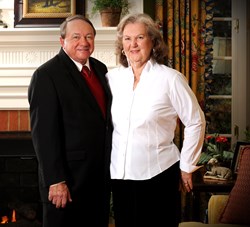 Lawrenceville, Ga. (PRWEB) January 03, 2014
Gwinnett Medical Center (GMC) recently announced a new $1million gift to the Gwinnett Medical Center Foundation from Clyde and Sandra Strickland. This is one of the largest donations designated for family medicine residency education and in their honor, the hospital's new family medicine teaching facility will be named the Strickland Family Medicine Center.
A range of treatment options will be available at this family medicine center from newborn care to geriatrics, and including maternity care. Furthermore, the environment will focus on engagement between the patient, their family and the broader medical team. The new 9,400 square foot facility will be located at 665 Duluth Highway, across the street from the Lawrenceville campus. It will feature 10 exam rooms, with two rooms that will be equipped for procedures.
"In the challenging healthcare environment, the Strickland Family Medicine Center offers families access to medical care from trusted physicians who can meet all their needs in one location," said Phil Wolfe, president and CEO of Gwinnett Medical Center. "As a community hospital, GMC is able to further its mission of accessibility through the humbling generosity of Clyde and Sandra Strickland."
"The noticeable shortage of family medicine doctors in the state and the county touches the community and the economy," said Clyde Strickland. "This new family medicine center will further Gwinnett's viability by attracting skilled medical talent while improving the community's overall health through increased individualized care."
"Our gift is about helping the community by offering an additional medical resource that's close to home," said Sandra Strickland. "We are hopeful that this medical center will help address one of our greatest needs – healthcare."
As the primary clinical teaching site for the new Family Medicine Residency Program, the center will provide educational opportunities for residents, medical students, and other allied health professional students. Graduate medical education faculty will work alongside the residents at the family medical center to provide exceptional patient care. "The Stricklands have given us the opportunity to develop a state-of-the-art family medicine teaching facility that will help us transform the health of Gwinnett County," said Kevin Johnson, MD, FAAFP, GMC's residency program director.
The Strickland Family Medicine Center will include access to electronic health records for physicians, ultrasound and video colposcopy equipment, and amenities such as a private group counseling room where families and physicians can comfortably discuss treatment options, among others. The new facility is scheduled to open in the spring of 2014.
About Gwinnett Medical Center
Gwinnett Medical Center is a nationally-recognized, not-for-profit healthcare network with acute-care hospitals in Lawrenceville and Duluth. Offering cardiovascular, orthopedic and neuroscience specialty care as well as a full continuum of wellness services, GMC's 4,800 associates and 800 affiliated physicians serve more than 400,000 patients annually. To learn more about how GMC is transforming healthcare, visit gwinnettmedicalcenter.org or follow us at facebook.com/gwinnettmedical, twitter.com/gwinnettmedical or youtube.com/gwinnettmedical.