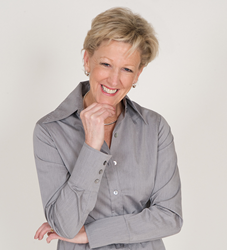 San Jose, CA (PRWEB) March 25, 2014
San Francisco Bay Area based People First Productivity Solutions invites professional sellers to tune in on Saturday, March 29 at 9:00 am for the broadcast of "Connecting With the Challenging Customer - Working effectively with purchasing, third parties and gatekeepers." This broadcast will feature an interview with sales expert and speaker Jill Harrington, founder and president of salesSHIFT.
Harrington was a globally respected sales leader and executive within the corporate performance improvement industry for over 20 years. In 2002, she founded salesSHIFT to enable sellers to shift the way they think and act in order to drive more sales in highly competitive markets. She is a member of the Advisory Board for the Centre of Excellence in Sales Leadership at the Schulich School of Business in Toronto and an active member of the Canadian Association of Professional Speakers. Harrington was inducted into the Canadian Meetings & Incentive Hall of Fame in 2012 for the Mentor category.
Sales coach and show host Deb Calvert will interview Harrington about her philosophy of creating a sales shift. They will also discuss why it's important for sellers to consider purchasers, gatekeepers, third party agents and other influences in the sales process and how sellers can work with (not against!) these parties to support their buyer.
Harrington and Calvert will answer caller questions live on-air. To call in live, dial (347) 202-0896. Questions can also be submitted in advance by sending an email to Deb. Listeners who wish to tune in on Saturday can do so by visiting the show's page on Blog Talk Radio. For those who can't make it on Saturday, the radio show archives will be updated immediately following the show. Interested parties can listen to this broadcast there, as well as past broadcasts, or download the show from Connect1 on iTunes as a podcast.
About:
CONNECT! Online Radio Show for Selling Professionals is a weekly broadcast to help sellers cut out continuances, put an ending to pending and stop stalling out! CONNECT! listeners learn how to improve every connection with every buyer. Join the CONNECT! community for discussion groups, blogs, videos and other free resources for selling professionals, leaders and emerging leaders, trainers, coaches and individuals. CONNECT! is provided by People First Productivity Solutions which was founded in 2006 by former corporate Sales and HR Executive Deb Calvert with the mission "We Build Organizational Strength by Putting People First."