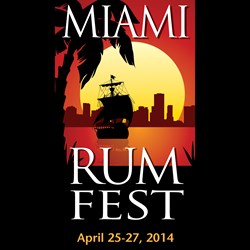 Miami is the number one rum market in the world. Miami Rum Fest was voted best festival in Miami.
Miami, FL (PRWEB) December 31, 2013
The organizers of the Miami Rum Festival today announced plans for greatly expanding their annual gathering of rum producers, professionals and enthusiasts. Returning to the Doubletree Hotel Miami Airport Convention Center for three days of rum tastings and programs, the world's largest rum festival is set for April 25-27, 2014 with more than 50,000 square feet of exhibits.
The three days of grand tasting sessions allow participants to evaluate hundreds of notable rum brands and expressions from around the world, in addition to expert seminars, lively entertainment and laid-back island lifestyle products.
"We're expanding the size and scope of the festival again this year," said show manager Robin Burr. "Rum producers from many more countries will participate in the exhibition, bringing an exceptional selection of cane spirits to a larger audience of consumers that appreciate fine rums."
The admission price of $50 (or $75 for VIP access) allows participants to sample any of the rums on display Saturday and Sunday, April 26 and 27. The Friday, April 25 Trade Day grand tasting session is reserved for those in the spirits industry and VIPs, as well as members of the press.
"There is no better way to discover all the best rums in the world from so many different countries," said Burr. "We're excited to introduce many new upscale luxury rums to our friends that appreciate the finest quality."
"At the same time, we see that hand-made cocktails are all the rage in the best bars around the world so we'll also emphasize rums that make the best cocktails as we introduce Miami Cocktail Week during the rum festival."
Rum enthusiasts from all over the world are coming to Miami to experience the ultimate rum tasting experience. "We're seeing a great increase in travelers attending the rum festival from all the islands of the Caribbean, as well as Europe and Asia," said Burr.
Miami is the number one rum market in the world.
International Rum Expert Panel judges from across the United States, Italy, Germany, France, Spain, England, Australia, Sweden and Holland will converge in Miami to judge rums for their annual tasting competition, awarding the best of the best with gold medals.
For more information call Robin Burr in Miami at 707-278-6736 or visit the web site: http://www.MiamiRumFest.com.