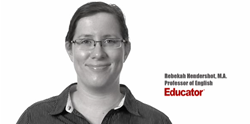 Learn not only the techniques to score a 5 on the exam, but also how to think at a high level at Educator.com.
Los Angeles, CA (PRWEB) January 01, 2014
Unlike most AP exams, AP English Language & Composition challenges you to think critically, analyze, and communicate clearly--a highly advantageous skill set in both academia and professional settings. Learn not only the techniques to score a 5 on the exam, but also how to think at a high level at Educator.com.
This AP course focuses on the nuances of rhetoric--eloquence, a command of language, and essentially the art of communicating effectively. The corresponding exam requires students to interpret and analyze passages, and then communicate in argumentative and synthesis essays. Professor Rebekah Hendershot is a creative, high energy instructor, and an experienced writer and editor. Her course covers:

How to Effectively Read & Interpret a Passage
AP Essay Basics
Various Rhetorical Modes and Strategies
Logical Fallacies
The Argumentative Essay
The Synthesis Essay
A Full Walkthrough of an AP exam
Each lesson includes in-depth explanations, real-life experience, and helpful tips for successful writing.
Complementary to AP Language & Composition, Educator.com also proudly offers 100+ other courses like AP Literature & Composition or even AP Biology to help students succeed in Math, Science, Language, Computer Science, Software Training, and AP/SAT Test Prep. Complete access to the entire Educator.com library is available at three subscription plans: $45 for the first month ($35/month thereafter), $180/6 months, and $300/12 months.
Educator.com is proud to provide today's scholars with advanced digital study materials that meet both their academic and financial needs. New and exciting courses are frequently added. At this time, Educator's AP Language and Composition lessons and accompanying free sample lessons are available for immediate viewing.
Educator.com pairs students with the best university professors and educators in the country. Educator's goal is to provide high school, college, and professional students with a variety of academic subjects in an online video format that is affordable, accessible, effective, and comprehensive.
The most effective way to improve education is to have the best teachers teach. With the best instructor in a subject, learning anything is possible. Every student deserves an excellent education regardless of geographic location or socioeconomic status and with Educator.com's affordable pricing everyone can access the site's complete content. For more information about the company please visit the About Us Page.