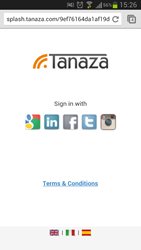 Tanaza can turn a SOHO Wi-Fi router into a social media hotspot, cloud manageable.
Milan, Italy (PRWEB) December 31, 2013
Facebook Wi-Fi, Facebook check-in, social media login… however you call it, it's basically the integration between the Wi-Fi infrastructure and social media. This integration allows delivering to retailers a great marketing tool which allows capturing customer's profiles, increasing engagement, and retention.
The problem with this kind of solutions is that they can be expensive and/or complex. On one side, there are Enterprise solutions: they can be very expensive but anyone with an Enterprise-level budget and Enterprise AP requirement will benefit greatly from these best-of-breed complete solutions; on the other side, there are open source components -- they are great, flexible and free", says Sebastiano Bertani, CEO of Tanaza. "However, Small Businesses cannot afford Enterprise-level projects and neither want to develop a platform from scratch. We consider Tanaza as the solution for Small Businesses; Tanaza (http://www.tanaza.com) is basically an all-in-one solution to cloud manage Wi-Fi networks without a crazy budget: it is designed to make those Small Business Wi-Fi projects happen."
For the retail market, Tanaza just released a bunch of features to make the Social Media Login functionality, including Facebook, Google+, LinkedIn, LinkedIn, Twitter and Instagram login, available on top of any hardware. A few Lead Users are already testing it, such as Media Entertainment in Norway and other solution providers in a dozen of countries in Europe and in the US.
"The Tanaza Dashboard is designed to be super easy to use," says Joanna Wall, Channel Manager, showing the video http://www.youtube.com/watch?v=dAoRfvpLy2M that introduces the new features. "The possibility to show an image advertisement or even a YouTube video BEFORE providing access to Internet, has been especially appreciated by most Marketing Agencies that are starting to explore the Wi-Fi space, starting with the Social Login."
Tanaza allows creating a social media hotspot in 5 minutes, using 3rd party Wi-Fi Access Points that anyone can already have in house, such as TP-Link or Ubiquiti (a full ist of supported devices is available here: http://www.tanaza.com/supported-devices). And the interface is very easy to use: it takes care of all the Wi-Fi networking configuration behind the scenes, so that it's possible to just focus on the design and user experience customization, which is what our retailer, restaurant or café consider relevant at the end of the day.
About Tanaza
Founded in 2010, Tanaza's mission is to make Wi-Fi management easy and affordable, enabling remote management of any vendor access points in multiple locations through one intuitive interface.
A demo, free trial or quotation is available by contacting your local Tanaza Channel Partner or Tanaza http://www.tanaza.com, sales(at)tanaza(dot)com or +39 02.8718.8553.