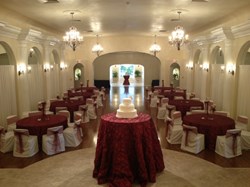 Stone Gate is exceptional! They make planning a wedding a breeze. The bride and her family were enjoying themselves free of any stress because of the friendly and happy staff.
Pleasant Grove, Utah (PRWEB) December 31, 2013
Pleasant Grove, Utah is the home of one of Utah's breathtaking historical sites. "The Old White Church" was originally built in 1897. In 2011, the church was transformed into a stunning wedding and reception center.
Stone Gate Center for the Arts has been the recent talk among brides throughout the Utah County area. Brides have been impressed by Stone Gate's stunning decor and the staff's attention to detail and quality service.
Vickie Bott was asked why she put so much effort into preserving this historic building. Here is her response: "People will think I'm crazy, but ever since I was 12 years-old, I wanted to buy a church; and I know that was not the norm… This last year I turned 60 and my dream came true, we bought a church." Randy and Vickie are currently serving an LDS mission at BYU Hawaii.
After many years of standing vacant, the church was purchased by Randy and Vickie Bott and their daughter and son-in-law, Matt and Jennie Johnson. Their intentions were to make the historic building a gathering place for the community to celebrate, learn and inspire. Their mission statement became: "Honor the Past; Enrich the Present; Inspire the Future!" They fully remodeled the building into Stone Gate and opened their doors to the public in September of 2011. After only 2 years, Stone Gate has been rated a 5 star wedding venue by Salt Lake Wedding Reviews.
"The Manila Ward Chapel" had served as a meetinghouse for Latter-day Saints for over 100 years. The family was asked to remove the steeple and make changes to the church's appearance. They did, however, choose to preserve many of the buildings original features.
This beautiful building has been fully renovated and designed to host weddings, receptions and all other events. Brides have been pleased with the building's regal Great Hall, gorgeous chandeliered Grand Ballroom and The rustic Hidden Grove (outdoor garden and amphitheater area). Stone Gate has become one of the most desired wedding locations in Utah.
In addition to hosting weddings and events, Stone Gate Center for the Arts includes Stepping Stones Preschool for the Arts and the Discovery Space Center. This family labor of love has received strong support from the community; and residents of Pleasant Grove and Utah County consider Stone Gate a light and joy that brings the community closer together.