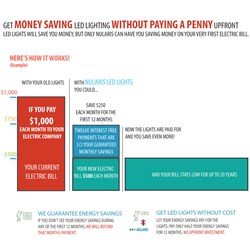 Los Angeles, CA (PRWEB) January 03, 2014
Nularis, Inc. has launched its Guaranteed Energy Saving Program (GESP) that allows enterprise customers to install energy saving LED lighting retrofits, and guarantees savings in electricity costs--with effectively no capital paid upfront by its customers.
Powering this offering is Nularis' newly developed smartphone and iPad app, "LEAP" (Lighting Energy Analysis Program) that instantly calculates an enterprises electricity cost savings that will result from installing LED lighting. Nularis will then supply an equivalent suite of LED lamps that require only 12 monthly payments that equal exactly half of the energy saving that results from the retrofit, after the utility company rebate. After the 12-month period, the customer enjoys the entire energy savings afforded by the LED lamps.
"Our LED offering is based on how much the business will actually save, instead of charging flat rates for a light bulb," said Joshua Futterman, lighting advisor for Nularis, Inc. "Our unique tablet and smartphone audit tool guarantees that the business only makes 12 monthly payments that are exactly half of the reduction in their energy bill."
This will allow the customer to start saving money from the first day they install the lighting, rather than making a large investment upfront and waiting to break even.
If it at any point during the first year the customer does not experience the forecasted energy savings, they can send in a copy of that month's electric bill, and Nularis will refund the difference in the calculated month payment.
The Guaranteed Energy Savings Program and Nularis LEAP smartphone app is now available to customers with any of the following utility companies as their electricity provider:
Baltimore Gas and Electric
Ameren, Illinois
SCG&E, South Carolina
Entergy, New Orleans
El Paso Electric Company
Excel, New Mexico
Boulder County, Colorado
Austin Energy, Texas
Tennessee Valley Authority
Black Hills Power, Colorado
AEP Kentucky Power
Southern California Edition
L.A. DWP