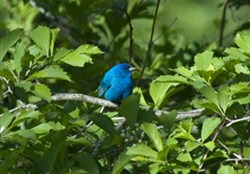 "Just as fascinating as the natural history of the Blue Ridge is its human history."
Charlotte, North Carolina (PRWEB) December 31, 2013
Naturalist Journeys, a top Nature Tour Company, announces their Spring Blue Ridge Mountains Guided Birding Tour, led by Doug Pratt, who has been fascinated with the region since he was a young boy. "My family loved camping," Pratt explains, "and every chance we had we would head to "the mountains" for a long weekend. The birding and botanizing were great for a budding naturalist. These experiences inspired some of my earliest work as an illustrator, and I made my first sale to someone other than family or friends at an amateur art show in Boone, NC." Pratt's love of the area led to him serving as a seasonal Ranger-Naturalist in Great Smokey Mountains National Park. He learned to play the dulcimer, and absorbed what he could of the unique music of the backwoods "coves and hollers". Pratt also illustrated his college friend Marcus Simpson's book "Birds of the Blue Ridge Mountains".
The nearly constant blue haze for which the Blue Ridge Mountains are named is the result of water vapor from the lush vegetation. Forests climb all the way to the summits, and the varied elevations produce some of the most species-rich plant communities in North America (for example the Great Smoky Mountains National Park harbors more tree species than all of Europe). One can make the equivalent of a trip from Georgia to Canada simply by ascending the Blue Ridge!
These mountains also support a diverse bird community, which includes many species at their southern limits. In spring and fall they are an important conduit for migrants. Wildlife of all kinds abounds, providing frequent sightings of black bears, bobcats, woodchucks, and white-tailed deer, and the region is known as the salamander capital of the world. Wildflowers are constantly in bloom from spring through fall, and the diversity of rhododendrons and azaleas is impressive. Even those interested in geology will find much to interest them. Most visitors are surprised to learn that North Carolina has the greatest variety of minerals of all the 50 states.
Just as fascinating as the natural history of the Blue Ridge is its human history. These mountains, much more than the Rockies, were a historically significant barrier to westward expansion of the fledgling U. S. The difficulty of traversing them also made them a haven for the Eastern Band of the Cherokee, who escaped the Trail of Tears, as well as isolated communities of European settlers who preserved songs and customs dating back to Elizabethan times long after they had disappeared elsewhere. Numerous cabins, mills, and farm buildings have been preserved for the enjoyment of future visitors. The Blue Ridge is the epicenter for bluegrass and old time music. Doug will have his autoharp and dulcimer along to demonstrate some of the musical traditions.
For a complete tour itinerary, go to http://www.naturalistjourneys.com/jcalendar/jc_BR14.htm.
More on the April 21-27 Blue Ridge Mountains Spring Guided Birding Tour
This tour begins and ends at the Charlotte, NC airport, and is limited to 12 participants. The tour will focus on the North Carolina part of the Blue Ridge parkway where it reaches its highest elevations. The itinerary is designed to maximize the birds, wildflowers, and scenery without great physical exertion, although some hikes will require a little stamina.
About Naturalist Journeys, a Top Small Group Adventure Tour Company
Naturalist Journeys specializes in small group birding tours and natural history tours of key sites across North and South America and around the world. The company's expert guides lead participants on intimate small group tour journeys for bird-watching, wildlife-watching and other forms of eco-tourism. Naturalist Journeys is a small adventure travel company that puts people, places and remarkable experiences together. Their style of environmental tourism focuses on nature — specifically birdwatching, natural history, geology and geography.