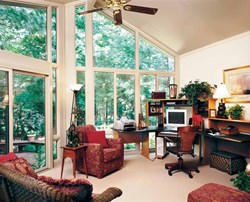 Resolve not to be discouraged if you can't afford everything you want. You might be able to improve in steps.
MIAMI, FL (PRWEB) December 31, 2013
Planning to increase your living space in 2014? Here are some things you must first resolve to do, said Chris Noe, president of Venetian Builders, Inc., Miami.
Venetian is a leading installer of custom-designed aluminum sunrooms, patio covers and screen swimming pool enclosures. It serves all of South Florida, including West Palm Beach, Fort Lauderdale, Boca Raton, Weston, Pembroke, Miramar, Homestead and the Keys.
"Before a builder can design a space that will work for your budget, lifestyles, tastes and neighborhood, you must make up your mind about a lot of things," Noe said.
Noe suggests homeowners make certain decisions before expanding a home. "Treat them as New Year's resolutions," he said:
About moving: "Whether to move to a bigger home or stay and expand is a huge decision," Noe said. "Before you resolve to move, get a handle on the costs. You'll have movers to pay, a real estate agent's fee to sell your home, maybe furniture storage costs, most likely a bigger mortgage payment, and probably a need for more furniture to fill a bigger home."
About staying put. "Before you resolve to stay and improve – and of course we'd love to help you do that – think about the intangibles," Noe said. "Do you like your neighbors? Do your kids like their schools? Are you content with your drive to work? Would expanding your home eliminate the things you don't like about it?"
About lifestyles: "What do you long for?" Noe said. "Are you resolving to live a more comfortable life? A more convenient life? Do you want to spend more time outdoors? Do you want more indoor space to do things you enjoy – watching movies, entertaining, reading in comfort, dining outdoors? Resolve to do as many of these as suit your needs, and to build an addition that accommodates as many as possible."
About your budget. "Know how much extra you can afford to spend," Noe said. "The smartest thing you can do is arrive at that figure and resolve to stick to it. Remember that any space you add – whether it's indoors with an aluminum sunroom addition or outdoors with a screened patio cover – will need furniture and accessories. Budget not just for the construction, but for those items, too."
About your spending habits. "Resolve to save as much each month as you expect your remodeling to cost you," Noe said. "That way you can be sure you're comfortable without having that money as discretionary income."
About the long and short term: "Resolve not to be discouraged if you can't afford everything you want," Noe said. "You might be able to improve in steps. We build many screen enclosures, for instance, that can convert later to a sun room when it better suits a family's needs and budget."
Venetian Builders' estimates are free, detailed and written. Its in-home consultations also are free, as is a curbside access to the Venetian mobile showroom.
For more information call 866-596-2427.