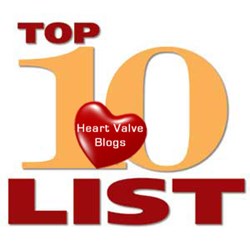 Our mission is to educate and empower patients with great content. It's amazing to see our community support and amplify that mission using social media," stated Adam Pick, founder of HeartValveSurgery.com
Los Angeles, California (PRWEB) December 31, 2013
HeartValveSurgery.com, the largest educational resource and community of patients with heart valve disease, announced today that its Top 10 Heart Valve Surgery Stories of 2013 has been posted here.
"During 2013, we harnessed several interactive and social media capabilities to create, produce and syndicate meaningful content for our patient and caregiver community," noted Adam Pick, the founder of HeartValveSurgery.com.
To develop and rank its Top 10 Heart Valve Surgery Stories of 2013, HeartValveSurgery.com leveraged native and integrated social media analytics – including Facebook Likes. The stories within this annual list had between 97 and 924 Facebook Likes per post. The highest number of Tweets per post was 139.
A sample of topics featured in this annual ranking include transcatheter aortic valve replacement (TAVR), patient success stories, mitral valve repair techniques, physician advice, surgeon interviews, conference videos, operative insights, real-time learning via webinars, infographics and more.
"Our mission is to educate and empower patients with great content," stated Pick, who had his aortic and pulmonary valves replaced eight years ago. "It's amazing to see our community support and amplify that mission using embedded social sharing functions across Facebook, Twitter, YouTube, Google+ and LinkedIn."
To see the Top 10 Heart Valve Surgery Stories of 2013, click here.
About HeartValveSurgery.com
Founded by Adam Pick, a former patient, in 2006, HeartValveSurgery.com educates and empowers patients with valve disease. This unique website includes a social network, a surgeon finder, a valve clinic directory, an interactive blog, an educational library, and a book.
During 2012, HeartValveSurgery.com received over one million visits. To learn more, please visit HeartValveSurgery.com.
Contact information:
Contact HeartValveSurgery.com:
Robyn Podell, Director of Communications
(310) 721-0587
robyn(at)heartvalvesurgery(dot)com