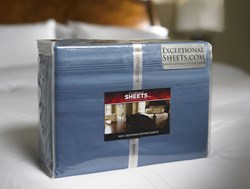 We hope that our contributions can help some of our homeless veterans to have a comfortable and happy Holiday Season in 2013
Evansville, Indiana (PRWEB) December 31, 2013
ExceptionalSheets.com makes a significant donation of profits to help feed and clothe homeless veterans in their hometown community of Evansville, Indiana. In honor of Veterans Day, the company decided to pledge 25% of all sales made toward those in dire need of help this holiday season.
"We pledged on Veterans Day to donate 25% of our sales instead of offering big savings to our customers to maintain the original purpose of Veteran's Day," said Paul Saunders, Founder and President of ExceptionalSheets. "We hope that our contributions can help some of our homeless veterans to have a comfortable and happy Holiday Season in 2013."
Mr. Saunders served in the Marine's for 7 years and retired as a Captain. He recently secured financing through the Patriot Express Loan offered through the U.S. Small Business Administration. As a veteran owned business, the Patriot Loan helps veterans and members of the military community who own or control 51% or more of business to either get started or with expansion aide.
As a result, Mr. Saunders has continued growing his company while maintaining his support of veterans in his local community whether through employment opportunities or significant contributions made on their behalf. ExceptionalSheets.com provided donations in the form of gift cards that have been given directly to Veterans to help them this holiday season.
Exceptional Sheets is among the nation's leading online retailers for luxury Egyptian cotton linens and bedding. Their product line includes 100% Egyptian cotton bed sheet sets, mattress pads, duvet covers, bath linens and pillow cases. Their luxury linens are made from the cotton grown and harvested in the Egyptian Nile Delta where it is considered among the worlds finest for comfort and luxury.
Exceptional Sheets is an American owned company out of Evansville, Illinois and features Egyptian cotton sheet sets, duvet covers, and pillow cases. Daily deals are featured each day of the week for those customers interested in the lowest possible prices. To take advantage of daily offers, prospective customers should visit the website or call the toll free customer support line at 1-800-977-7433.