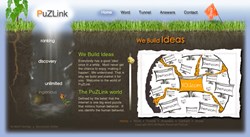 (PRWEB) December 31, 2013
Search Engine Tunnel | PuZLink.com
PuZLink.com, citing data on consumers' online buying habits for 2013, released the following statement from company founder David Capo:
"Recently Price Waterhouse Coopers released advance statistics from a global survey of online shoppers. Among those results was the statistic that twenty-six percent of those surveyed in the United States shop online on a weekly basis. Now more than ever, companies have before them the opportunity to reach an audience of prospective customers who are gathering in one location—the Internet—to shop for products and services. At PuZLink.com, we continue to recommend search engine tunneling as the preferred method for companies to use to connect with consumers and conduct business online. We believe that 2014 will see a dramatic rise in the use of search engine tunneling as companies turn to the Internet to market their products and services."
A search engine tunnel (SET) is based on the idea that the Internet is a word puzzle that reflects the behavior of the people using it. Google and the other major search engine providers regularly update their algorithms so their results accurately reflect what is taking place on the World Wide Web—what people are searching for, information that is available, what merchants are selling and more.
PuZLink.com pioneered search engine tunneling as a way for companies to build their businesses by first discovering what people want and need, based on search trends, and building an online presence based on that information. SET builds on the practice of search engine optimization (SEO), which is used by web designers and programmers to place descriptors within a web page or site to improve search results. SET expands on that idea to use strategic content to connect consumers and businesses online.
Companies interested in PuZLink and search engine tunneling are invited to contact the company.
About the Price Waterhouse Coopers report:
For their report, Total retail: Global survey of online shoppers, Price Waterhouse Coopers (PwC) surveyed 15,000 shoppers in 15 territories around the world about their purchasing preferences and retail habits.
Resource Link: http://www.pwc.com/gx/en/retail-consumer/retail-consumer-publications/global-multi-channel-consumer-survey/index.jhtml.
About PuZLink:
PuZLink LLC works with companies to succeed online by building ideas that will in turn build a business. The company welcomes inquiries from individuals or businesses interested in harnessing the potential of the Internet to build an online enterprise utilizing PuZLink's proprietary approach to search engine tunneling (SET). More information is available online at http://www.PuZLink.com.
Media Relations:
Tom Delamater
(330) 437-5975