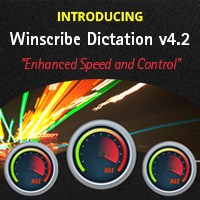 "Winscribe has the most integrity an honesty of any vendor we've partnered with. Their software only solution works with most hardware devices to handle from one to thousands of users" says Tom Wilkes, President of ECS
Ventura, CA (PRWEB) December 31, 2013
Since 1990, ECS has been providing high quality, dependable dictation/transcription solutions designed to address the needs of their customers. The latest release of Winscribe Dictation enables ECS to provide their customers with most advanced solutions to streamline document production, reduce report turnaround time and boost employee productivity. With Winscribe Dictation v4.2, companies can work faster and have more control over their documentation processes and data management.
In the business to help our clients meet their business goals, the latest version of Winscribe Dictation enhances speed and control through:
· FAST document creation and turnaround via smart documentation workflows, template tools, Microsoft Office integration, on-the-go dictation for smartphones and tablets, and integrated Speech Recognition (via Dragon NaturallySpeaking and Microsoft's Speech Platform engines).
· FAST and flexible documentation via manufacturer independent input devices, including the new Philips DPM 8000 Pocket Memo and Olympus' DS-7000 series handheld recorders, which are among the most advanced portable recording devices on the market.
· FAST system management and implementation.
· FAST reporting available by means of advanced, SQL-based reporting tools, providing dashboard intelligence and assisting organizations to understand employee usage and productivity gains.
· CENTRALIZED roles-based security which enables businesses to apply permission templates across its user base.
· CENTRALIZED multi-departmental management, allowing cross department management savings.
· CENTRALIZED, intelligent workflow management whereby the system recognizes deviations from the normal workflow and automatically takes corrective actions, ensuring smooth and accurate business processes.
"Winscribe v4.2 is the culmination of working together in successful partnership with our customers to produce a release that drives greater business value, which can be proven through measurable outcomes," explains Greg Allen, Chief Technology Officer at Winscribe. "In addition, information security is of increasing concern as more businesses adopt mobility and cloud technologies, and Winscribe v4.2 is ready, employing the latest in Microsoft .Net technology at its core and adopting 256-bit AES encryption from its digital portable manufacturing partners."
Mr Allen went on to say that: "Winscribe Dictation provides our customers with greater visibility of the benefits to their businesses – delivered through voice technologies such as speech recognition. Building on our philosophies of ease of use, innovation and intelligence, Winscribe Dictation v4.2 sets the standard for optimal digital dictation and speech recognition workflow."
To learn more about the Winscribe Dictation software suite, including Winscribe's mobile applications and speech recognition solutions, please visit http://winscribeusa.com or contact
Executive Communications Systems directly at 800.644.9525.
About Executive Communication Systems:
The prime focus for Executive Communication Systems (ECS) in Ventura, CA is customer satisfaction. Since 1990 ECS has been providing high quality, dependable dictation/transcription equipment and accessories with in-house service solutions designed to address the needs of our customers. Additionally, integrity isn't just a word for us, it describes how we live our lives and operate our business. Our staff will never sacrifice their integrity trying to over-sell or achieve sales quotas at your expense. We will discuss your needs with you and outline your options, large and small, quote you for every option you desire and let you decide what is best for you. We value each customer as individuals with specific needs and our goal is to provide a dictation/transcription solution that fits your needs so perfectly it keeps you coming back to us with confidence for years to come.
The ECS research and development department ensures we sell and service only the highest quality products possible with a wide range of versatility and flexibility for your recording needs. ECS stands solidly behind the products we sell.
ECS has three divisions:
Network Dictation Systems
http://www.WinscribeUSA.com
Voice Logging / Quality Assurance
http://www.PSAPLogging.com
Dictation / Transcription Equipment & Accessories
http://www.tvps.com
Executive Communication Systems has carefully cultivated a seasoned sales, service and support team of factory trained, knowledgeable, courteous and considerate individuals, proud of the roles they play here at ECS servicing over 40,000 customers worldwide.
ECS can meet your dictating and/or transcribing needs from a single transcription headset to robust WinScribe Network Dictation Systems.
About Winscribe:
Winscribe is a world leading provider of digital dictation software supporting business requirements for digital dictation, transcription, voice recognition, and workflow management. Founded in 1995, Winscribe has offices in the USA, UK, New Zealand, Australia and Switzerland, with more than 100 sales partners in over 25 countries supporting more than 350,000 users worldwide.
The Winscribe solution is built on Microsoft architecture, to ensure easy integration and maintenance. Winscribe also supports a wide range of manufacturer-independent dictation devices and is scalable from small, single office locations up to large multinational corporations. Winscribe is fully customizable to meet the needs of a number of significant vertical markets including Legal, Law Enforcement, Healthcare, Transcription, Insurance and Government Sectors.