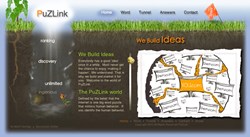 (PRWEB) December 31, 2013
Search Engine Tunneling | PuZLink.com
PuZLink.com has introduced search engine tunneling (SET) as a tool for companies to use to gain a position on the Internet and connect directly with consumers based on their wants and needs.
Customer service and support are essential elements of any marketing plan. Search engine tunneling enables companies to focus on customer service by building an online presence based on the understanding of consumer trends and preferences.
"Search engine tunneling represents, in a sense, the ultimate in customer service," said David Capo, founder of PuZLink.com. "People are looking for an enjoyable online experience, and SET caters to that by introducing them directly to the products and services they want."
That level of attention on the customer gives businesses a distinct advantage at the beginning of the consumer's decision-making process. PuZLink's search engine tunneling process helps companies determine consumer wants, based on what they are searching for, and then create an online platform that caters to those interests.
"One of the historic challenges of marketing has been identifying the right customer for your product or service," said Capo. "The traditional way of doing it was by spending money on radio or television, billboards, direct mail, and other forms of advertising.
"The Internet has changed the game by leveling the playing field," he continued. "Any business, large or small, can connect directly with prospective customers and do so more affordably thanks to the limitless reach of the World Wide Web. Search engine tunneling speeds that process and helps connect consumers more specifically with the businesses that offer the products and services they're looking for."
Web programmers and developers have long employed search engine optimization (SEO) in an effort to improve the ranking of their websites in the major search engines. Search engine tunneling builds on that foundation by utilizing data from search trends to help businesses establish an online identity with strategic public relations tactics first, in some cases prior to creating a company website.
Entrepreneurs looking to gain an online presence and build their idea into a brand are invited to contact PuZLink.com to learn how search engine tunneling can help their business.
About PuZLink:
PuZLink LLC works with companies to succeed online by building ideas that will in turn build a business. The company welcomes inquiries from individuals or businesses interested in harnessing the potential of the Internet to build an online enterprise utilizing PuZLink's proprietary approach to search engine tunneling (SET). More information is available online at http://www.PuZLink.com.
Media Relations:
Tom Delamater
Delamater Media Group
(330) 437-5975