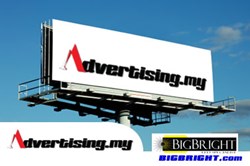 There is a specially dedicate segment for freelance jobs here in which applicants can advertise their capabilities and services that they offer.
Kuala Lumpur, Malaysia (PRWEB) December 31, 2013
As one of the pioneers in online advertising and marketing services industry, Advertising.my has been constantly working to provide innovative and cutting-edge services to bring better solutions and options for its customers and partners around Malaysia.
Advertising.my offers a full and complete range of products and services in advertising and marketing as well as through its partnering portals. As part of this expansion plan, Advertising.my will be offering job recruitment services through its leading portals which are JawatanKosong.com.my and Carikerja.com.my in which both the portals will be offering the Bahasa Malaysia version with a strong focus in the market segment within this language.
Through JawatanKosong.com.my and Carikerja.com.my, job seekers can now look for available vacancies in all industries around the country which includes towns like Taiping and Johor Bahru. Applicants will be required to complete a one-time registration where they have to submit their resumes and other details. After that, they can apply for jobs straight away by browsing through the database of all available jobs.
There are more than 5,000 positions available which are advertised by partners nationwide which include towns and cities like Taiping, Petaling Jaya and more. Companies range from Government-Linked Companies, Multinational Companies, local and international firms, private startups, small and medium enterprises and many others. As such, job applicants will be able to find jobs in marketing, human resources, accounting and finance, administrative clerks and in information technology, among many others.
There are jobs in both the private and public sectors where they are in all levels respectively. Applicants who have deposited their resumes can automatically apply for jobs online through an easy-to-use interface.
It must be noted that to apply for government jobs or those with the public sector, applicants would need to possess certain requirements and undergo specific procedures. As such, JawatanKosong.com.my and Carikerja.com.my provide a comprehensive guide on all that are required to apply for these jobs. This includes the minimum academic qualifications, the relevant working experience and all other requirements that could help in the application.
Apart from that, applications will need to fulfill other obligations that include filling up special forms and documents which will all be described and explained in detail as well. From there, applicants can find out about what they need to do in preparing for the interviews with the public sector and what they need to be aware of when they are attending the sessions that have been scheduled.
Job seekers will be able to find several types of positions that include full-time, part-time, contract, temporary, permanent as well as freelance jobs at JawatanKosong.com.my and
Carikerja.com.my.
There is a specially dedicate segment for freelancers in Malaysia which applicants can advertise their capabilities and services that they offer. At the freelance segment, jobs that are available will be advertises and those with the relevant skills will be notified accordingly. Freelance jobs here include designing, copywriting, administrative, project management as well as highly technical ones like architecture and design as well in which freelancers can easily register with JawatanKosong.com.my and provide all details about their skills and experiences in the areas they prefer.
Another segment available here is the Job industry News. This is where job seekers can find out about all the current issues which are happening around the jobs and recruitment market. This includes the likes of top jobs in the country, salary schemes in the market and all other issues which will provide more insights and assistance to the job seeker.
There will be additional resources and knowledge-base for job seekers as well. JawatanKosong.com.my and Carikerja.com.my sources for the most relevant articles to help job seekers better their chances of finding their dream jobs. This includes information like tips on job interviews, job applications, how to answer interview questions, personal grooming, designing of resumes and all other related information which will help the candidates.
About JawatanKosong.com.my
JawatanKosong.com.my is the leading job portal in Malaysia that provides job-related and recruitment services. It is one of the main Bahasa Malaysia online job portal with a strong focus in the Malay-speaking community. JawatanKosong.com.my has been providing resources, jobs and all other features to this market segment with resources on government jobs and public sector recruitment.