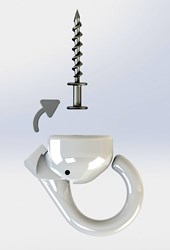 The elephant hook will hold between 20 and 50 pounds in drywall or plaster, and up to 100 in solid wood.
Los Angeles, CA (PRWEB) December 31, 2013
Hangman Products' new Elephant Hook, named for its distinctive shape, is so clean and contemporary in its design, it will change how you think about what you can hang from the ceiling, and how you organize your home. Depending on the model, it will hold between 20 and 50 pounds in drywall or plaster, or up to 100 pounds in a solid wood beam.
The Elephant Hook requires only two simple steps for installation. Using either a Hangman double-headed Bear Claw wood screw, or double-headed machine screw for anchors, install the screw or bolt, click and lock the Elephant Hook, done. The Elephant Hook will swivel, but locks under tension.
The Elephant Hook is available in white, nickel, or bronze to match any decor.
The Elephant Hook joins the might of Hangman's powerful line of hanging products, including its innovative and award-winning line of TV mounts, picture hangers, mirror hangers, and safety products.
About Hangman Products: Hangman Products creates hardware solutions for everyday needs. The multiple-patented Hangman Systems are carefully engineered to guarantee a safe and sturdy installation while promising to hang it level every time. Hangman's products range from Hanging Pictures, Hanging Mirrors, Hanging Framed Art, TV/Stereo Mounts and Safety to Garage/Slat Wall and Organization. They are designed to meet the installation requirements for retailers, consumers and manufacturers. Hangman's ever-expanding line of products can handle even the most difficult projects.