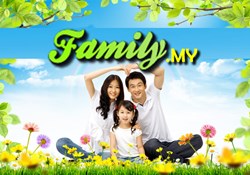 Famly.my is Malaysia's leading portal which is the most complete and comprehensive resource and platform for Malaysian families and the general public.
Petaling Jaya, Selangor (PRWEB) December 31, 2013
As 2014 approaches, Family.my will be hosting a roadshow that will provide more access to its members on family property and family health. There will be a wide variety of services, which will be available at the roadshow, which will provide easier access for the members in learning about what they need in personal finance as well as general well-being.
At the roadshow, more credit card and financial management services will be offered as it has been an issue among Malaysian families in recent years, especially with the rising cost of living, which has driven many Malaysians into debt-related problems. As such, a credit card consolidation consultation will be made available at the roadshow in which members are encouraged to share their standings and learn about how to live a more fruitful life with better financial freedom for the long term.
There will be a launch of an e-book on health as well. This will provide a new segment for members of Family.my who will benefit more with a mobile e-book on health and general well-being. This book can be downloaded into their smartphones with updated tips and techniques like first-aid, articles on staying healthy and how to maintain a stress-free life, among others.
On top of that, plans are underway for a Malaysia kid's store in Family.my which will be offering a broad range of products for children at affordable prices. This will be an online shopping option for parents who can look for products for children of all age groups. There are baby products like CDs, strollers, educational books, gadgets, clothing and toys, etc.
As part of this round of expansion, Family.my will be launching two new segments which will be property investment and education. The Malaysia property investment section will be offering insights, tips and advice on property investment in Malaysia. The major focus here is to provide Malaysian families with a channel to learn about what type of properties to invest in with regards to their lifestyle and family members. They can find out if an apartment would be suitable for a family of 5 or landed property being a more sound investment.
On the other hand, the education section will provide all the related information and resources on education in Malaysia where members are now able to learn more about the Malaysia education system in both the private and public schools of the country. Here, advice on what children should learn in schools, scholarships and university choices are provided. Members can read about which universities are the best and insights into which courses are the most sought after and marketable for their children.
The roadshow organized by Family.my will be an ideal venue for members to be engaged with some of the experts in related segments like education, finance and property investments. There will be specialists who will be offering advice and consultation which will be of great assistance to families and their members. At the roadshow, visitors will be able to stand a chance to win attractive prizes like home makeovers, lighting devices and LED lighting products which are all sponsored by BigBright Malaysia, the leading supplier of LED bulbs in Malaysia.
About Family.my
Famly.my is Malaysia's leading portal which is the most complete and comprehensive resource and platform for Malaysian families and the general public. The portal is among the most established avenues that provide up-to-date and relevant resources on all the current issues. This includes the likes of health, education, social, technology, current affairs and many others, all of which are targeted to provide Malaysian families with a better quality of life and a more.harmonious society in the country.