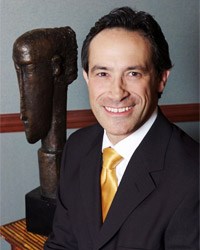 Chicago Board Certified Plastic Surgeon launches new website.
Chicago, IL (PRWEB) December 31, 2013
Dr. Otto Placik is a board certified Chicago plastic surgeon serving patients throughout Chicago. The launch of his cutting edge website gives patients the opportunity to view hundreds of before and after photos, have consultations via Skype, learn through dozens of videos and view real patient stories.
Breast Augmentation in Chicago is one of Dr. Placik's specialties. The new website has multiple pages of information for prospective patients, including information on Silicone Breast Implants versus Saline Breast Implants, Breast Augmentation via Fat Grafting, multiple videos explaining the procedures and also numerous before and after photos.
Another feature that has been very successful has been the implementation of consultations via Skype. Dr. Placik not only serves patients in Chicago, but from around the world. "We understand that for some of our patients it is difficult to make it into one of our offices either because of distance or their busy schedule and this gives them a very simple way to figure out if we are the best choice for them" says board certified plastic surgeon Dr. Otto Placik.
With over 20 pages of plastic surgery frequently asked questions patients also have the ability to learn so much about the procedures offered prior to even having a consultation. Dr. Placik also has over 15 videos just on common questions patients want to know. Plastic surgery can be confusing, with all of the possible procedures a patient can have and the new website has more information than ever, so patients can be better educated about all possible options available to them.
With hundreds of plastic surgery before and after photos, it is also very easy for patients to review all of the procedures they are interested in. The before and after photo gallery gives every patient the ability to see numerous angles and views of the procedure they are interested. Majority of the photos have details explaining the patient's specific case as well so patients can learn and envision the procedure for them.
Dr. Placik is a well-respected Chicago Plastic Surgeon and offers numerous procedures, ranging from Tummy Tuck to Liposuction, Facelift to Lip Augmentation and has taught numerous courses on labiaplasty as well. You can view all of the cosmetic surgery procedures offered by visiting the new website at http://www.bodysculptor.com.
You can also call or visit on of his offices and below you will find the information:
Locations:
Dr. Otto Placik 845 N. Michigan Avenue, St. 923E | Chicago, Illinois 60611 P: 312.787.5313
Dr. Otto Placik 880 W. Central Road, St. 3100 | Arlington Heights, Illinois 60005 P: 847.398.1660