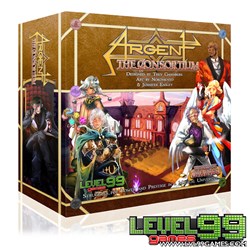 Politics in Argent can be as important as research, resources, and espionage.
Albuquerque, New Mexico (PRWEB) January 01, 2014
After launching some of the most critically acclaimed tabletop games of 2013, publisher Level 99 Games is taking a new direction with Argent: the Consortium.
The new project, which passed its funding goal in mid-December via the popular crowdfunding website, Kickstarter, is a culmination of aesthetics and designs from around the world, over 3 years in the making.
"The creation of a modern board game is no longer the hobbyist's project," explains D. Brad Talton Jr, president of Level 99 Games and designer of some of 2013's top hits, "the board game is now a studio undertaking that requires the talents, skills, and specialties of diverse individuals and the direct input and support of fans around the globe. This is a triple-A production."
In Argent, the players are professors in a school of magic, each embroiled in a secret conspiracy to obtain the rank of Chancellor. Players must use their magic, their apprentices, and a great deal of bluffing and trickery to gain the upper hand and secure the position.
"It's a game that's essentially about fixing an election," Trey Chambers, the designer of Argent, elaborates. Politics in Argent can be as important as research, resources, and espionage.
Previous offerings from Level 99 have been highly experiential games, similar in style to Magic: the Gathering or Dungeons and Dragons. "We're taking a new direction with Argent by producing a game in the European style, with a focus on resource management, economy of time, and long-term strategy," Talton explains. Classic games such as Settlers of Catan and Power Grid are well-known examples of this paradigm. "We want to infuse the genre with our characteristic attention to theme, art, and immersion."
Talton brings to Argent the same all-star cast of artists, graphic designers, and producers that made their previous offering, BattleCON, 2013's GeekInsight game of the year and prompted top industry critic Tom Vasel to name it one of the best games of all time. With Argent, he aims to raise even these bars.
Argent has already received significant attention from sources such as Crits Happen, Board with Life, and the Dice Tower. "After one game of Argent, my friends and I were captivated by it," writes Scott Morris of Crits Happen "[we] talked all day about it, how we could play better, and strategies." Another notable reviewer, Trent Hamm, writes "I backed the game on Kickstarter within an hour of my play."
Though fully funded, Argent: the Consortium is still available for the next few days on Kickstarter.
Argent: the consortium is designed by Trey Chambers and illustrated by Eunice Tiu, with supporting artwork by Jennifer Easley. It is published by Level 99 Games and scheduled for a public release in Summer of 2014.
Learn more about Level 99 Games and their ongoing projects at http://www.lvl99games.com.