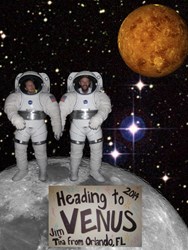 You will never meet a more supportive group of runners.
Dallas, TX (PRWEB) January 01, 2014
Started in January 2013, the Moon Joggers are the brainchild of Angie and Ashley Webb. The group was originally formed to encourage themselves and a few fellow runners to reach their running goals by collectively "running to the moon." Within two months the group went from a handful of runners to more than 1,200 runners in 40 countries. On May 23, 2013 the group made their first successful "moon landing" by completing 238,857 miles. After making a few laps around the moon, the group made it back to Earth in early November.
Not to be outdone, this year's Voyage to Venus (approximately 25 million miles away at its closest point) will challenge runners of all levels to get outside and get moving. Each participant will set their own goal (i.e. 1,000 miles) for the year and log their miles on the Moon Joggers' website. Each runner's logged mileage is then added to the group's total. Throughout the year, the online community of runners will hold virtual runs to keep runners motivated and raise money for its partner charity, The Little Heroes Foundation.
"You will never meet a more supportive group of runners," said Angie Webb, founder of the Moon Joggers. "From ultramarathoners pumping out 100 miles a week, to runners gearing up for their first 5k, our runners rally around each other to encourage, educate and support great causes like The Little Heroes Foundation."
The group is aiming for 25,000 participants to reach the 2014 goal. To become a Moon Jogger or learn more about the Voyage to Venus, visit http://www.moonjoggers.com.
###
About The Little Heroes Foundation
The Little Heroes Foundation is a nonprofit organization whose mission is to improve the mental and physical well being of children throughout the world by serving, supporting and enhancing human life. To learn more about the projects, grants and other ways in which The Little Heroes Foundation improves the lives of children, visit http://www.littleheroesfoundation.org.