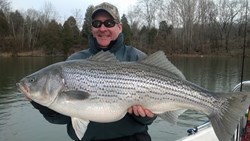 We are planning a tournament for early 2014, said Noah.
Maynardville, TN (PRWEB) December 31, 2013
Hickory Star Resort and Marina recently hosted the Tennessee Striped Bass Association's championship tournament on Saturday, December 21, 2013. Justin Noah, Marina Manager, is currently working with TSBA to host a second event in early 2014.
"Special lodging rates and evening events are being planned," said Noah. Norris Lake is known for great striper fishing and Hickory Star Resort and Marina has hosted many fishing events over multiple years. More recently, new owners at the marina have looked to bring back the fishing tournaments that drew anglers from the throughout the mid-west and south-east to test their skills.
Norris Lake is attracting attention of other angler groups for its bass, crappie, and walleye. The deep water and varying structures will provide a challenge to the most skilled angler and a great day of fishing for the novice.
For more information about this event and other events on Norris Lake, please contact the Union County Chamber of Commerce at unioncochamber(at)bellsouth(dot)net.