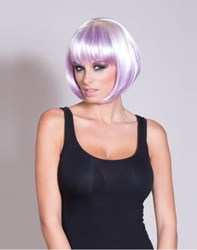 Bold block colours, pastel colour splashes and dark colours will be popular in 2014, many people will use wigs and extensions to cheat the look rather than making a new colour commitment.
London (PRWEB UK) 1 January 2014
Heading in to a new year there are sure to be some fantastic new styles, colours and hair trends and experts Wonderland Wigs give us their opinion on what to expect.
Lead designer, Samantha McClements says, "There are already some key trends that we're expecting to see... Pastel colour splashes and bold block colours will definitely be big again in 2014. We're expecting celebrities to continue to lead the way and are expecting a big mainstream following for the colour splash and bold colour trend. In 2013 our coloured wigs and pastel wig collection were leaders for us, as were our hair chalk and colour hair dyes. We're expecting this to continue in line with the colour trend and we have plans to expand our pastel wigs and coloured wigs range."
Samantha continues, "So many people turn to wigs now instead of make bold changes to their own hair, so it is really important that we lead the way with the latest trends. Another trend we are expecting to continue is the ombre trend, this goes hand in hand with the colour splash trend and again our ombre wig collection and ombre half wigs were among our most popular products in 2013. A new an emerging trend we're expecting to really take off is that more ladies will be going dark with black being a popular colour choice as well as browns. Lots of celebrities have been successfully going black recently with stunning results, we're predicting that our black wig and brown wig range will be popular as ladies clamor to get the look without making the commitment".
_______________________
Wonderland Wigs are the celebrity choice for wigs, half wigs and extensions. The full range is available to buy online at http://www.WonderlandWigs.com