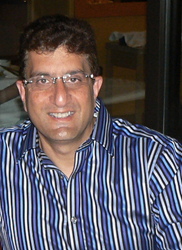 It is particularly important to take care of oral health during pregnancy. The increase in progesteIrone and oestrogen in the body can result in the softening of gums.
(PRWEB) January 07, 2014
Dr Tariq Drabu, the leading dentist and owner of the Langley Dental Practice in Middleton, Manchester, was recently urging expectant mothers to take advantage of the benefits they receive, and to use their NHS dental care while they are eligible for it. He feels that not all women are fully aware that they can get free dental care while pregnant, and even after the birth of their child while their babies are young.
Dr Tariq Drabu said, "It is particularly important to take care of oral health during pregnancy. The increase in progesterone and oestrogen in the body can result in the softening of gums. This can result in bleeding gums and in some cases, gum diseases. Regular dental check-ups are very important during this period. "
Dr Tariq Drabu went on to say, "Statistics released by the NHS suggest that over 50% of pregnant women in the UK develop gingivitis during pregnancy. I hope to encourage as many women as possible to take advantage of the NHS dental care that they are entitled to, so that they can take care of their teeth and gums effectively, and access the professional dental care they need. Untreated gum diseases and other dental problems could cause problems for both the mother and the baby."
Dr Tariq Drabu was referring to a recent article published in Denistry website. The article provides statistics collated recently in America. It states that as many as 56% of women in the US did not visit a dentist while they were pregnant. The article can be read here.
Although British women are entitled to NHS dental care and a great many women do attend the dentist while pregnant, Dr Tariq Drabu feels it is important to ensure women in Britain are fully aware of their entitlement. He said, "It would be sad indeed if we were to discover that expectant and nursing mothers had not been taking advantage of this opportunity to access free dental care. The article I read recently noted that the US healthcare system is being warned about the growing problem. We are fortunate in Britain to have the NHS, so I want to ensure that as many women as possible use the facilities and opportunities that are available to them."
Dr Tariq Drabu said, "Expectant mothers are fully entitled to NHS dental treatment. To get NHS dental treatment, all they need to do is get a MATB1 certificate from their midwife or GP. They will also need a valid Prescription Maternity Exemption Certificate. This will be supplied to them by their GP too. Then it's just a simple case of making an appointment to see the dentist."
His dental practice in Langley is a well-known and renowned family practice, so Dr Tariq Drabu is no stranger to treating many expectant mothers and young families. He is able to offer specific advice to expectant mothers who need to pay particular attention to their teeth and gums during pregnancy.
Dr Tariq Drabu closed by saying, "My staff and I will ensure all the information about oral hygiene during pregnancy is available for patients who need it. During pregnancy, women can experience various symptoms which can affect their oral health so we will do all we can to advise and assist our patients."
About Dr Tariq Drabu
Dr Tariq Drabu is a highly experienced and well known Manchester dentist and GDC registrant. He is accredited as a Specialist in Oral Surgery by the General Dental Council. Dr Tariq Drabu practices at his Langley Dental Practice in Manchester. Dr Drabu is a leading name in dentistry, with more than 25 years' experience in both general practice and hospital dentistry. Dr Tariq Drabu is also the Clinical Lead Dentist for the Oral Surgery Clinical Assessment and Treatment Services at NHS Heywood, Middleton and Rochdale. He is a specialist staff member at The UCLan Dental Clinic in Preston.