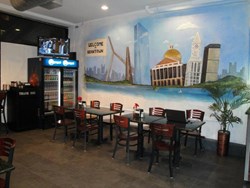 Boston, MA (PRWEB) December 31, 2013
Restaurant Furniture.net recently proved why it's America's leading manufacturer and distributor by teaming up with Beantown Pizzeria and providing tables and chairs to the enterprising new restaurant.
Located on the campus of Boston University, Beantown Pizza offers free speedy pizza delivery from 11 a.m. to 11 p.m. to Boston University students, faculty and fans in the Boston, Allston, Brighton and Brookline areas. Beantown Pizza prides itself on giving the people of Boston quality food, fast delivery, and great customer service. Their Boston pizza, pasta, and meats are prepared fresh daily in their kitchens.
Brookline pizza customers enjoy lightning-fast delivery of their choice of toppings on Beantown Pizza's brick oven-cooked creations. They pride themselves in providing only the freshest, tastiest ingredients, and offer plenty of options in non-traditional pizza combinations such as The Whitey, The Soprano and Buffalo Chicken Mania.
In addition to serving brick oven pies to their pizza customers, they offer catering for larger events and banquets, meetings and even parties. Subs, appetizers, burgers, salads and even pasta dishes are also created at Beantown Pizza for their hungry patrons searching for more variety on their plate.
The owner heard about Restaurant Furniture.net's reputation for stylish, well-built commercial furniture and excellent customer service. For seating he opted to go with Interchangeable Back Metal Chair with 3 Slats. He also ordered the matching Interchangeable Back Metal Bar Stool with 3 slates. He chose the black frame with the mahogany finish for the wood back and seat. The frame also comes in gold, copper vein, gold vein and silver vein. The solid wood saddle seat also comes in dark mahogany, walnut, cherry and mahogany finishes. Customers can also choose an American made padded seat upholstered in vinyl or fabric.
The Interchangeable Back Metal Chair with 3 Slats is an attractive chair and a good choice for restaurant owners who want the sturdiness and durability of metal but also the beauty of wood. These chairs are fashionable enough to fit in any dining establishment and are strong enough for high traffic use in places such as the Full Circle Café. They are currently on sale at Restaurant Furniture.net for only $45. The Interchangeable Back Metal Bar Stool with 3 Slats sells for $62.
For the tables he chose the 30" X 30" Premium Granite Table Tops. "The lightweight design and easy to clean surface made these tops the perfect fit for his restaurant because they are durable and affordable, ideal for fast casual restaurants" explained David M., salesperson for Restaurant Furniture.net. The tables come in square, round or rectangular shapes in a wide variety of sizes.
Browse Restaurant Furniture.net's full selection of commercial grade chairs, bar stools, table tops, table bases, booths and patio furniture at http://www.restaurantfurniture.net or talk to a customer service representative at (888) 409-1115.
Beantown Pizza is located at 270 Babcock St., in Boston, MA. They can be contacted at (617) 562-1400.