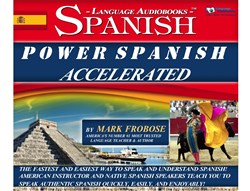 If you want to get ahead of the competition in the job market in 2014, then start learning a new language today! - Mark Frobose/FounderLanguage Audiobooks Inc.
Champaign, IL (PRWEB) January 01, 2014
Language Audiobooks President and Founder Mark Frobose offered up a series of practical and down-to-earth reasons why learning to speak a new language, especially Spanish, is one of the best investments anyone looking for a job in 2014 can make.
"People who speak Spanish or another language fluently are an instant fit in an increasingly competitive and multilingual world," he explained.
Frobose, author of Audible's bestselling Power Spanish Accelerated, Power French, Power Italian, Bite-Sized Mandarin Chinese audio programs has been teaching and creating instructional language programs for years. He has his hand on the pulse of the impact that language instruction has had on his many students over time, and he offers the following reasons why learning to speak a new language is a sound investment for anyone who wants improved job opportunities in 2014:
1. If there is a choice between two candidates of equal qualifications and one speaks several languages and the other does not, then the one who speaks languages almost always gets the job.
Reason: Employers correctly assume that the more language skills the employee brings to the table, the better it is for them. This is especially true for Spanish and Mandarin.
2. When given a choice between a candidate who knows Spanish, Russian, Mandarin Chinese, or German, the candidate with Spanish speaking ability will usually be the most popular choice to fill the position unless the company has specific language needs in other languages.
Reason: While many companies often need personnel with diverse language skills, the defacto default language of preference for employers is Spanish simply because of the numbers of Spanish speaking clients and businesses. "It's a statistical numbers game where Spanish trumps the competition by the sheer size and weight of 450 million Spanish speakers, many of whom reside in or near the United States," reports Frobose.
3. An English speaking applicant who is also at least conversational in Spanish, French, Italian, Russian or Mandarin Chinese will probably be chosen over the monolingual "English only" applicant, even if the company does not currently need a multilingual speaker on board.
Reason: It's commonly viewed as an insurance policy by employers to have someone on board who knows Spanish and other languages "just in case" he or she is needed. "The employer's attitude is you never know when this person's language ability will come in handy," says Frobose.
Language Audiobooks Inc. specializes in downloadable digital language programs which are extremely fast and easy to learn and that are immediately accessible to any smart phone or computer. The Language Audiobook's motto is "Learn Languages Fast Wherever You Go™".
The company's founder and CEO Mark Frobose is an expert language teacher who created the entire language audio line for Macmillan Audio of New York including the bestselling "Behind the Wheel Spanish" program. For over a quarter of a century, Mark has created and produced more successful audio language programs than any other living individual in the world today.
Language Audiobooks' popular Power Spanish, Power French, and Power Italian, Bite-Sized Mandarin, and other innovative language programs are available for download now at Audible.com.