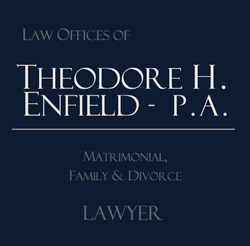 MIAMI, FL (PRWEB) January 01, 2014
Understanding the legalities involved in filing for an annulment is necessary before filling out paperwork with the court.
In an effort to ensure clients understand the process and requirements involved, Theodore H. Enfield, a Miami Dade lawyer, now provides complimentary annulment legal counseling and education.
Annulment is a process by which a court determines a marriage is not valid and never legally existed; even after a ceremony was conducted.
It is not uncommon for people to confuse which criteria fall under annulment and which fall under divorce. For example, many believe the length of time a couple have been married is enough justification to file for an annulment. Length of time, itself, is not enough to file.
Specific grounds for filing an annulment must fall under one of three specific categories which are fraud, bigamy, or insanity.
A few examples include:

mental illness
forced consent
one or both partners were under the influence of drugs/alcohol
one or both parties were not old enough to enter into a marriage
one or both parties were still legally married to another party when the marriage ceremony was conducted (bigamy)
incest
impotence
domestic violence
Before moving forward and filing for an annulment in the state of Florida, it is imperative to first seek legal counseling to better understand Florida laws pertaining to annulment. During a complimentary counseling session with the family law office of Theodore Engield, each client will be provided with the necessary facts pertaining to the annulment process and have a clearer understanding of their options.
About the Law Offices of Theodore E. Enfield:
For over 30 years, the law firm of Theodore Enfield has helped hundreds of Florida families with different family law issues pertaining to divorce, domestic violence, prenuptial agreements, equitable property settlements, child custody, and child support. With years of experience handling court cases and different family law scenarios, Mr. Enfield has built a reputation as a trusted Miami family attorney. When meeting with individuals or couples seeking divorce, before any proceedings begin, the highly-experienced Miami divorce lawyer ensures his clients know exactly what to expect before they file.
Theodore Enfield provides each client with a complimentary Florida family law consultation explaining the impact divorce will have on them financially, in addition to the potential implications it may cause on the rest of their family.
Before making any major decisions, T. Enfield encourages clients to first seek his consultation services to get a firm understanding what is expected and the potential expenses associated in filing any lawsuit.
To schedule a complimentary consultation or inquire about different family law services the law firm of Theodore H. Enfield offers, call local (305) 933-9592 or toll free at 800-733-5299.
For non urgent questions or issues, simply fill out the contact form located on the homepage of the website.