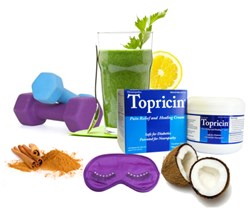 Topricin - an additional way to help the body detox...naturally, with no side effects.
Rhinebeck, NY (PRWEB) December 31, 2013
A New Year, A New Way to Detox! If you are starting the year on a diet cleanse and want to help speed and heal uncomfortable side effects, or you want to reduce inflammation from a holiday season of overindulgence, learn about Topricin therapy - an undemanding detox program that will keep you healthy and healing all year long.
Detox the body to heal: Pain and excess fluids in the pain site along with the toxicity of oral pain pills compromises healing and the body's desire to rid itself of unwanted toxins. In order for healing to begin, the body needs help removing excess fluids and toxins from the affected area, such as joints, nerves and muscles, to relax the micro-capillaries so that oxygen-rich blood can then flow into the targeted area and relieve pain through the healing process.
A combination of homeopathic biomedicines, when Topricin Pain Relief and Healing Cream is applied to the affected area it stimulates the lymphatic system to drain toxins and fluids from the site of pain, normalizing oxygen-rich blood flow to the cells and ultimately enhancing the body's innate ability to heal itself.
As well, the purpose of most celebrated detox regimes is to help alkalize the body. Health practitioners and health enthusiasts herald the benefits of maintaining a neutral pH - from increased energy and maximizing fat burn to helping one lose weight. By reducing or eliminating the need/dependency for oral pain pills and the toxins they produce, Topricin helps restore and maintain the skin's natural pH balance by lowering acidity in the body so the internal body can dispose of toxins and wastes safely and easily.
Says Topical BioMedics Founder and CEO and Inventor of Topricin Lou Paradise:
"Topricin has a twenty year reputation of providing robust health benefits through its synergized homeopathic biomedicines, without the use of petroleum, parabens, lanolin, menthol, capsaicin, fragrances, or irritating chemicals. As well as a breakthrough healing technology, Topricin is known for reducing the time of recovery of trauma injury and post-surgical trauma and reducing the need for/dependency for all classes of chemical-based oral pain pills...Making it an essential product to replace chemical painkillers, detoxify your body and make your medicine cabinet family safe!"
In addition, here's a rundown of the most common toxins to look for and avoid:

Sodium Lauryl Sulphate (SLC). This industrial degreaser and garage floor cleaner is also used in toothpastes, shampoo, and many personal cleansing products. It is a suspected liver or gastrointestinal toxicant and sometimes causes eye and skin irritation, hair loss, and allergic reactions, and thought to be a contributing cause of cataracts.
Propylene glycol (PG). Used in makeup, hair care products, deodorant, after shaves, and toothpaste, this wetting agent and solvent is also the main ingredient in antifreeze and brake fluid.
Polyethylene glycol (PEG). Found in skin cleansers, PEG is a relative of PG, and is a caustic that's used to dissolve grease and is found in oven cleaners.
Formaldehyde. This highly toxic substance can be found in bubble bath, shampoos, moisturizing lotions, and various other cosmetics.
Parabens (methyl, propyl-, butyl- and ethyl). These are widely used to inhibit microbial growth, disinfect products, and extend their shelf life. Usually derived from petrochemical sources, they are extremely toxic, easily absorbed by the skin, and have been linked to severe health issues and diseases.
Stearalkonium Chloride. A compound originally developed as a fabric softener, this inexpensive ingredient is used in skin creams and hair conditioners.
Phthalates. Found in numerous health and beauty aids, these plasticizers can disrupt hormones, causing birth defects and wreaking other health havoc.
Artificial fragrance and synthetic perfumes. Roughly 200 different chemicals fall under this category. Some problems related to them include headaches, dizziness, hyper-pigmentation, coughing, vomiting, and skin irritation.
Make a resolution to get rid of toxins and heal your body and home!
About Topical BioMedics, Inc.: Topical BioMedics is the research and development leader in topical patented natural biomedicines for pain relief. The company's flagship product, Topricin® Pain Relief and Healing Cream, was introduced in 1994 and is now a leading natural therapeutic brand. The formula has the distinction of being the only topical patented for the treatment of the pain associated with neuropathy and fibromyalgia. Topricin was awarded a Parent Tested/Parent Approved Seal of Approval, and was selected as a 2012 Top 100 Green Products by Healthy Holistic Living. Other formulas in the product line include Topricin Foot Therapy Cream and Topricin Junior for children (with 5% sales donated to pediatric cancer foundations).
All Topricin products are made in the U.S.A., formulated with approved medicines as found in the HPUS (Homeopathic Pharmacopoeia of the United States) and are in compliance with federal rules for homeopathic over-the-counter medicines. The products contain: no parabens, petroleum or harsh chemicals, are odorless, greaseless and non-irritating, and produce no known side effects, making them ideal and safe for the entire family.
Topricin is available in pharmacies, natural food stores, and retailers nationwide, including Whole Foods, The Vitamin Shoppe, Fred Meyer, Wegmans, CVS (Foot Care Section), Walgreens (Diabetic Section) and other fine stores, as well as directly from the company. For more information, visit http://www.topricin.com.
http://www.topricin.com
http://www.healthtechnology.net
http://www.ewg.org