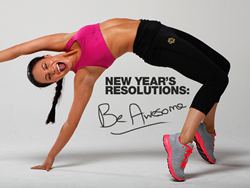 "The Zaggora Challenge is our way of saying thank you to our fans and customers for their amazing support. Taking the Zaggora Challenge will help to fuel you for an amazing 2014." Dessi Bell, Founder
London, UK (PRWEB UK) 2 January 2014
2014 is about being awesome! At Zaggora, we believe this means feeling happy, looking fabulous and being full of energy.
To thank all of our fans and clients for their amazing support to date, in January 2014 Zaggora is launching the Zaggora Challenge – a comprehensive health and fitness programme designed to inspire healthy eating habits and a sustainable fitness regimen for the busy woman. The Zaggora Challenge was designed based on feedback from Zaggora's community of over half a million fans and will help clients get lean, healthy and happy for a fantastic 2014.
The Zaggora Challenge has two elements:
a/ Fitness: a progressive structured fitness programme stretching over a period of up to 6 weeks using resistance training and plyometrics to deliver a lean, long and healthy body. Easy to do on the go, the only equipment needed are some resistance bands and kick butt attitude.
b/ Nutrition: based on the belief that food is fuel for life, Zaggora wants you to have an amazing start to the new year and that means eating the right foods! The Zaggora Diet will help clients relate to food in a new way and eat to increase energy, reduce cravings, burn fat and support a healthy active lifestyle.
Zaggora was born to make being healthy and fit easier. The Zaggora Challenge stays true to brand's philosophy – it can be done any time, anywhere, with minimum equipment.
Founder of Zaggora, Dessi Bell, says:
"The Zaggora Challenge will help women get lean, toned and beautiful through smart exercise and nutrition. We have over half a million Facebook fans many of whom share their health journey stories on a regular basis, having discovered Zaggora. We wanted to give our clients a Zaggora-specific whole-body programme to fuel them for life."
Participants are encouraged to share their progress with the Zaggora community on facebook.com/Zaggora, Twitter and Instagram tagging #zaggorachallenge
The Components
Body
Designed in collaboration with leading London personal trainer Linda Jones, the Challenge enables participants to select an exercise programme that matches their current level of fitness, with three levels of intensity to choose from - Basic, Intermediate and Advanced. Body challenges target fitness using two types of workout:

Total Body – Total Body level 1-6 consists of 45 minute sessions that train the entire body, promoting building of healthy, lean, toned muscle and encouraging fat burn
Vitality – 30 minute focused 'blast' sessions that are designed to target key body areas through cardio and resistance training
Linda Jones on the challenge:
"Depending on your fitness level, the challenge can take six weeks (i.e. commence at basic and progress to the next level every fortnight) or two weeks if you are already at advanced level. The beauty of the Challenge is you can tailor it to suit your needs, performing the workouts on your own or with friends if you need that that extra motivation".
Nutrition
Food is fuel for life. The Zaggora Diet complements the Zaggora Challenge fitness programme with a detailed guide to a healthy, balanced diet. Exercising every day will require taking the right kind of fuel on board; a balance of essential daily nutrients, which will replenish energy levels, help to burn fat and tone the body from the inside out.
Particular focus is placed on maintaining normal blood sugar balance, one of the most important factors in helping to increase energy levels, support weight management and decrease cravings.
Created by London based nutritionist Zoe Copsey and Michelin-trained chef Caroline Fabian, the Zaggora Diet provides a detailed daily meal plan including three meals and snacks, with nutritional information as well as shopping lists and suggested cupboard essentials.
The Zaggora Challenge is the perfect way to kick start your way to a fabulous new you in the New Year. The Zaggora Challenge can be downloaded online from My Account section on http://www.zaggora.com or http://info.zaggora.com/the-zaggora-challenge from January 2014.
For further information please contact:
Dessi Bell
dessi(at)zaggora(dot)com
020 3657 4421
NOTES TO EDITORS
Zaggora
Zaggora creates smart products for smart women, which are designed to fit easily into every woman's lifestyle no matter how busy they are – helping them lead happier, healthier and better lives. The company is the brainchild of 29-year-old ex-Investment Banker Dessi Bell, who came up with the concept after she struggled to find an effective solution to tone up in time for her wedding. After being disappointed with so many other products in her quest to get into shape, Dessi decided to design her own product that would look good, be easy to use and give genuinely effective results for all women, from on-the-go mums to time-poor high fliers. After extensive research and experimentation with countless prototypes, Zaggora HotPants were born.
Since the launch of the brand in July 2011, over 600,000 Zaggora products have been sold in 133 countries around the world and the company has been nominated for awards including the Retail Week Technology Awards, the Drapers and Retail Week PayPal Etail Awards. At the 2012 National Business Awards, the company took home the accolade of 'E-Commerce Strategy of the Year'. As founder of Zaggora, Dessi Bell has been named as one of Management Today's 2012 35 under 35, was shortlisted for the 2012 Specsavers everywoman Awards and Shell's 2012 Women of the Future Awards.
Zaggora now offers a complete range of 'Hot' workout wear for the upper and lower body, which has been joined by a premium bodycare range and a line of stylish casual wear. Zaggora's first menswear range launched in autumn 2013.