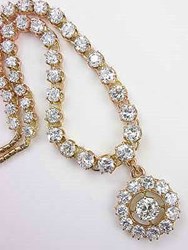 Sparkle just makes everything better, not only in the New Year but every day of every year.
Atlanta, GA (PRWEB) January 01, 2014
Most New Year's resolutions are broken before January draws to a close, but antique jewelry boutique Topazery has some ideas for 2014 that resolvers will want to keep all year long. To celebrate the dawn of the New Year, the company reviews three jewelry resolutions that are sure to make it all the way to the end of 2014.
"Cosmopolitan" magazine recently did a run-down of nine style resolutions that encourage women to give themselves a break, embrace who they are and have more fun. Antique jewelry boutique Topazery believes that's what fashion and accessories should be all about. Drawing on the Cosmo list for inspiration, the company has come up with its own list of jewelry resolutions for the New Year.
2014 Jewelry Resolution #1: Add some color to your jewelry wardrobe. — As its number one resolution "Cosmopolitan" urged readers to wear more color and Topazery wholeheartedly agrees that this directive should extend to jewelry. "Nothing livens up even the drabbest outfit fast like a pop of jewelry color," explains Topazery's spokesperson. "The easiest way to accomplish this enlivenment is with a vibrant stone like a ruby, emerald or blue sapphire, but even a piece of rose gold jewelry, for instance, can transform that little black dress (or office suit) into something wow!"
2014 Jewelry Resolution #2: Allow your personality to shine with your jewelry pieces. — Cosmo recommended that its readers express themselves and have some fun with their look in the New Year. If they are too shy to go the in-your-face Lady GaGa route, they can still understatedly flaunt their personality with a jewelry piece. "Maybe you're an avid gardener or you've recently devoted yourself to religion. Then a floral swag necklace or a filigree cross pendant might be the perfect way to show the world who you really are without hitting them over the head."
2014 Jewelry Resolution #3: Get your sparkle on. — "Cosmopolitan" concluded that "Sparkle just makes everything better," and Topazery is fully on board with that assessment for 2014. The antique jewelry boutique offers dozens of sparkling options, but one of its favorites for the New Year is a Victorian antique diamond necklace. Fifty-one old European cut diamonds are set in a hand-wrought classic Riviera drop design mounting. "This necklace lays fluidly on the neck and glitters and sparkles with every graceful turn of the head," Topazery's spokesperson relates.
For more information on how to create a whole new jewelry you in 2014, contact Jan Walden at (678) 528-8901. To browse Topazery Jewelry's full collection of resolution-worthy jewelry items, visit the company online at http://www.topazery.com/.