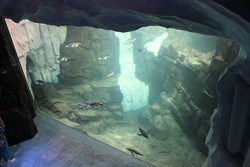 Grand Junction, Colorado (PRWEB) January 04, 2014
Reynolds Polymer Technology, Inc. took part in some of the most interesting and anticipated exhibits created in the year 2013. Although RPT is best known for aquarium work, their R-Cast® acrylic provides the same strength and clarity in all types of applications. SeaWorld Orlando and Akron Zoo highlight the diversity that custom R-Cast® has to offer.
To create the 'coolest' arctic attraction in Florida, Reynolds Polymer manufactured their R-Cast® acrylic windows to showcase the true star of Antarctica's wildlife – the penguin! To date, SeaWorld Antarctica: Empire of the Penguin is SeaWorld's largest attraction and was chosen as one of the top ten best budget destinations for 2014. Although this exhibit is still young, having opened in May, the exhibit is home to over 250 penguins and hatched two chicks just in time for Christmas. Visitors are able to enjoy the skilled swimming of the penguins through the 20 foot long by 12 foot tall RPT viewing windows. Though the clarity of the panels is deceiving, eight inches of acrylic actually separates visitors from these curious creatures.
In Akron, Ohio, kids are privy to an extremely intimate encounter with river otters at the Akron Zoo. R-Cast® acrylic was also used in the construction of a 25 foot long tube slide that travels through the river otter pool at the Mike and Mary Stark Grizzly Ridge zoo exhibit. A majority of the acrylic adjacent to the otter enclosure was custom cast for the attraction. The exhibit is also home to red wolves, coyotes, bald eagles, and grizzly bears. The majestic grizzly bears can be observed through an 11 foot wide, 6 foot tall acrylic panel. This panel alone weighs over 2000 pounds and is created to tolerate impact from a 1500 pound grizzly bear.
"Reynolds Polymer has had a monumental year", said Matt Houlihan, Executive Vice President. "Our projects have been exceptional and we are continuing to grow and push ourselves to new heights. I am excited to see what 2014 and the future of RPT holds."
About Reynolds Polymer Technology Inc.
During its 30 years in business, Reynolds Polymer Technology Inc. has completed more than 1,600 projects in 53 countries, including the Aquadom in Berlin, Shark Reef in Las Vegas, and many other custom works. Reynolds is the manufacturer, fabricator, designer, and installer of R-Cast® acrylic sheets. The company is constantly raising the standard for what can be done with acrylic resins, and their products have been used extensively in the architectural, signage, aquarium, water-retaining, and scientific industries. Headquartered in Grand Junction, Colorado, Reynolds Polymer also has operations in Rayong, Thailand. Visit http://www.reynoldspolymer.com for more information. Proud member of the Association of Zoos and Aquariums.