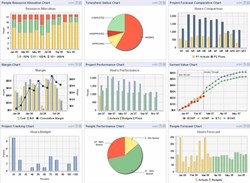 "We are delighted to continue to grow the capabilities of our partner network and the Unanet ecosystem. This provides broader resources and knowledge for our customers." - Donna Kilbourn, Senior VP of Customer Account Management and Partner Channels
Dulles, VA (PRWEB) December 31, 2013
Unanet, a developer of services automation software that helps organizations manage people and projects for improved profitability, has announced new certified implementation partners in its expanding partner program.
Earlier in 2013, Unanet announced expansion of the partner program to include certification for implementation services, and an upcoming reseller program in 2014. Unanet's expansion of its partner program is a strategic investment to support growth in customers and revenue, expand geographic presence, and to enhance the capabilities of Unanet and its partner network in preparation for the market launch of Unanet's enhanced financial capabilities including a general ledger.
Continued investment in this strategic program saw fifteen partner companies attend a rigorous Partner Certification "Boot Camp" in three separate sessions during fourth quarter of 2013, leading to the certification of nine companies to implement Unanet Project Tracking. Additional companies are in process of gaining final certification, continuing their interview process into the first quarter of 2014.
Certified partners include Strategic Consulting Solutions, Solvability (a practice of Decosimo), SSi Consulting, Cordia Partners, Aronson LLC, DragonEye Consulting, Saggar & Rosenberg, Turn 10 LLC and KGRF Group. Partners in process of completing certification include BDO, Raffa, McGladrey, The Macurn Consulting Group, Fitzwater & Dean and Diener & Associates. Several partners are already working actively with clients to implement Unanet software.
By gaining certification on the product, Unanet partners have demonstrated the knowledge and skills needed to help clients implement and support Unanet software.
The next major milestone for the Unanet program is to train certified partners to sell and market Unanet with the Solution Provider Partner launch in January 2014 followed by additional certification on Advanced Project Management & Resource Planning and Billing & Revenue Recognition.
Donna Kilbourn, Senior VP of Customer Account Management and Partner Channels commented, "We are delighted to continue to grow the capabilities of our partner network and the Unanet ecosystem. This delivers increased resources and knowledge for our customers."
About Unanet:
Unanet is a leading provider of Cloud or On-Premise software for project-based organizations. Unanet delivers skills management, resource planning, budgeting & forecasting, time & expense reporting, billing & revenue recognition, and project management reporting. Over 1,000 organizations rely on Unanet to maximize staff utilization, reduce administrative costs by 90%, improve invoicing by 10X, and support forward decision-making for improved operations.