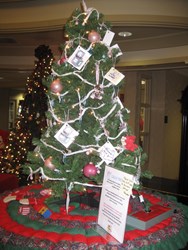 Collingswood Manor, which traditionally adopts children in need during the holidays, has selected Callie Marie this year.
(PRWEB) January 01, 2014
On an evening in late September, Carlington (Cally) Britton, a 20-year-old associate at Collingswood Manor and resident of Pennsauken, was hit by a stray bullet in Camden. Although he tragically passed away the following day, his memory remains vibrant in the community he left behind.
Each year, Collingswood Manor employees and residents put up decorative Christmas trees, some with a purpose beyond holiday beauty. This year, one prominently stands out among them — and not because it is poised atop the baby grand piano in Collingswood Manor's Morris L. Smith Rotunda.
It's called "Cally's Tree of Life." Branches are peppered with pink bulbs and miniature pacifiers hanging on braided garland fashioned from multi-pastel baby yarn. Paper ornaments, like dangling wishes, bear the names of baby nursery necessities. The tree skirt resembles a whimsical popcorn quilt.
A sign next to it reads: "In loving memory of Cally who was a CNA on the fifth floor and in honor of his daughter, Callie. Please pick something off the tree of life and purchase that item for Callie. Bring the item and place it on the floor under the piano. Baby Callie will be born in January and never had the chance to meet her dad. We are thankful that we had the opportunity to meet and work with Cally."
Collingswood Manor, which traditionally adopts children in need during the holidays, has selected Callie Marie this year. Residents, associates and visitors alike have responded with donations of diapers, books, baby toys, stuffed animals, gift cards, and clothing, all conveying Christmas-sized messages of welcome and love to baby Callie Marie.
Her father, Cally Britton, beloved by associates and residents alike for his gentle caregiving and team spirit as a certified nursing aide at Collingswood Manor, had planned to attend nursing school. The administration responded to the tragic and untimely loss by mobilizing resources, including grief counselors to support the staff and residents, as well as Mr. Britton's family. The viewing and funeral took place at Collingswood Manor.
Associates, residents and friends sent notes, gave emotional reassurance, made phone calls, donated meals, and organized a collection to benefit his family. In keeping with the Christmas tree tradition at Collingswood Manor, the idea for a tree emerged in memory of Mr. Britton to benefit his unborn child. Callie Marie is expected in January 2014.
Six additional trees erected by various departments inspire charitable gifts, promote fellowship, encourage reading, celebrate play, raise funds, and reach out in compassion. These include the Star, Bingo, Alzheimer's, Book of Knowledge, Home Sweet Home, and Dining Services trees.
The trees remain on display in various locations throughout Collingswood Manor now through mid-January. Call 856-854-4331 for additional information.