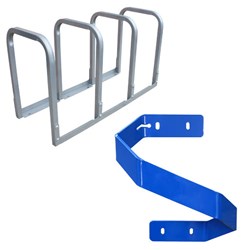 We're avid cyclists at Dero. We only make products that we would use.
Minneapolis, MN (PRWEB) January 02, 2014
Say good-bye to old-style "wheel bender" racks that people hate to use and say hello to Dero's new U-Lockit Rack – a small, modular, affordable bike rack that actually does what bike racks are supposed to do: secure a bike with any lock without damaging the bicycle. The U-Lockit is perfect for smaller applications and short-term parking at K-12 schools, churches, and small businesses.
Dero understands that space is a premium and has designed the Switchback Rack with that in mind. The Switchback allows for horizontal bike parking along a wall and has an optional cable for securing both wheels. It's an ideal rack for urban settings where sidewalk space is limited.
"We're avid cyclists at Dero, so we know the challenges and frustrations people encounter when trying to find secure bike parking," says engineer Joel Greenblatt. "We bring these issues back to our design team, and then seek creative, affordable ways to solve them. We only make products that we, as cyclists, would use."
Both the U-Lockit and Switchback racks are made of high-quality, American steel, are U-lock compatible, and are easy to install. The U-Lockit is also safe for all wheel types and frames, even children's bikes – it also ships flat via UPS or FedEx with tamper-proof hardware and is easy to assemble.
2014 Product Updates
Dero Duplex and Decker: Our two-tier bike parking options now have a new look! These two racks offer the same space optimization, small footprint and functionality, but now have a sleeker, lighter design.
Dero Image Infusion has all the brilliance and detail of full-color printing with the lasting durability of industrial powder coating, and is now available for the Dero Bike Hitch, Hoop Rack, and Bike Bike Rack.
Dero Pump Stop: An accessory no bike pump should be without. Just put either wheel in the Pump Stop, and your bike stays put while you fill your tires with much needed air.
About Dero
Since 1995, Dero has been supplying innovative bike parking and bicycle transit solutions to architects, contractors, municipalities, higher education, and parks and rec. Its bike racks, repair stands and pumps, shelters, and lockers are high quality, thoughtfully designed and secure. Dero also offers the award winning Dero ZAP, an automatic system to track bike commuters. Dero is located in Minneapolis and is proud to support biking locally and nationally.