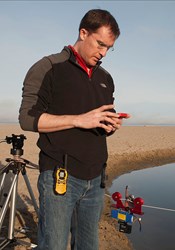 Hillsboro, OR (PRWEB) January 01, 2014
Ken Stone, the inventor of the GoKart™ cable camera system, is proud to announce the unveiling of the GoKart™ system at the CES trade show. The trade show is January 7th thru 10th , 2014 in Las Vegas, Nevada, booth 70110 in the Venetian Ballroom.
Ken Stone said, "CES is the perfect venue to introduce GoKart™. It is great to be presenting our product at the largest consumer electronics show. I am looking forward to demonstrating GoKart™ at the show. We will have a special demo going on all four days. People will be able to see what a remarkable product this is."
The GoKart™ is the Rolls Royce of cable camera systems from Gordian Stone Solutions, replacing expensive and heavy dolly systems for shooting video that require teams of grip to set up. The GoKart™ is a viable product for both the aspiring and professional videographers. This system is perfect to use during sporting events or for getting that impossible scenic shot. The GoKart™ is portable, lightweight, affordable, fits in a backpack and leaves behind no environmental footprint. It only takes one person to set up and operate which is a big advantage over large dolly systems. The GoKart™ cost is also much less than a dolly system.
There are two classes of GoKart™. The C class is a open cable camera system model. The O class is a closed version that has a pan and tilt head. Both classes have the ability to be fitted with custom modules. One is for an electric motor power that powers the car. The other module is for pan and tilt capabilities.
For more information about GoKart™, please contact Bob Collins at 503-515-8658.
About Gordian Stone Solutions
Gordian Stone Solutions is the manufacturer of the GoKart™, revolutionary modular cable camera systems for videographers.
Bob Collins, Director of Marketing
Gordian Stone Solutions
503-515-8658