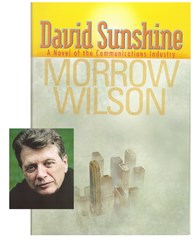 learning about the remarkable new ways to reach readers is extremely satisfying
New York, NY (PRWEB) January 14, 2014
In a publishing industry with less and less use for literature every day, Morrow Wilson, author of David Sunshine, has used his latest novel to prove the reading public feels otherwise.
"If your allegiance is to literature and you're an American writer," says Morrow Wilson, "you're pretty much on your own. All the statistics I see lately indicate that the majority of American fiction is self-published. There are publishers who will not even look at a first novel, no matter who presents it to them.
"I'm not referring to what the book publishers call genre fiction, you know, Romance, Gothic, Mommy Porn, Chiclit, Kidlit. The book publishing industry has become a candy machine -- put in your money, pull the handle and out comes Beach Reading, Summer Reading and all of the above.
"I have dealt with well-established agents who want very much to represent literary fiction but who say their hands are tied if they cannot find a category to attach to the manuscript. Tell that to Cervantes or Tolstoy or Jane Austin."
So Morrow Wilson set out to prove there is still a market for serious fiction, using his latest novel as the subject of an experiment. Always disappointed with the way book publishers neglect modern marketing methods, the novelist created and carried out a sophisticated marketing plan that combined traditional methods with the new world of social media and the Internet in general.
David Sunshine has been the subject of both local and coast-to-coast AM radio, world-wide satellite radio interviews, online newspapers, Facebook, LinkedIn, YouTube, podcasts, Internet websites and blogs -- with the result that David Sunshine has not only found an audience, but is constantly developing new constituencies.
"The audience reads and moves on. Currently the book is selling to more and more young people. After all, a book is a one-time-only purchase. Unlike most consumer goods, once you have bought a book, you will not return to buy the same book again, though if you like this book you may be very interested in the next book by the same author. Thus, readers may not know the title, but they will ask for the latest Stephen King novel, the latest Grisham, the newest Mary Higgins Clark, The novelist, not the novel, becomes the brand,"
David Sunshine, a comic novel in the tradition of Dickens and Mark Twain, tells the story of an innocent young man who comes to New York City to make his way in the television industry of the 1960s. It is funny, heart-breaking, sometimes encouraging, as it pits its idealistic young hero against a more and more cynical industry and laughs at the hypocrisy and mindlessness of TV's movers and shakers.
David Sunshine has had only excellent reviews and is listed as a four-star book on Amazon and GoodReads has given it five stars.
All in all, though the marketing campaign for the book is not over, Morrow Wilson is pleased with the results so far. "Building an audience is one thing -- a very good thing --" says Morrow Wilson, "but learning about the remarkable new ways to reach readers is extremely satisfying."
"The book publishers themselves seem very confused by the Internet," says Morrow Wilson. "They fear it will destroy their business, don't know what to make of it, but if they want you to submit a manuscript, they'd like you to send them a PDF."