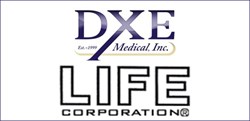 Brentwood, TN (PRWEB) January 02, 2014
DXE Medical, Inc., a leading distributor of new and recertified medical equipment, is pleased to now offer LIFE® Corporation products. LIFE® Corporation specializes in oxygen related equipment including LIFE®OxygenPac and LIFE® SoftPac portable emergency oxygen units, and the LIFE® Start System™. The company also manufactures CPR masks and refillable oxygen cylinders.
These products were created with employers in mind as an addition to existing first-aid supplies. DXE currently provides automated external defibrillators to a wide range of public access environments through licensed distributor agreements with all major AED manufacturers including Zoll, Phillips, and Phyiso-Control. Now as a licensed distributor for LIFE® Corporation, DXE will be able to offer customers additional equipment to help prepare for and protect employees in the case of a medical emergency.
All LIFE® Corporation products are now available for purchase from DXE by calling 866-349-4364 or visiting dxemed.com. Please call to speak with a sales representative to learn more about which LIFE® Corporation product is right for your needs.
DXE Medical, Inc. was founded in 1999. It provides new and refurbished defibrillators, AEDs, EKGs, as well as other medical equipment and has grown to serve customers in all 50 states and 40 countries worldwide. For more information, please visit: http://www.dxemed.com/.