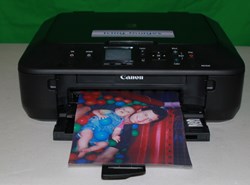 No matter what the decorating skill level, this new product is something that will absolutely wow our customers.
Winchester, VA (PRWEB) December 31, 2013
January 2nd, Icing Images will make available a new line of refillable cartridges for the most up-to-date Canon printers, the MG5420 and MG5520.
Although non-refillable cartridges typically rise in price when refillable cartridges become available, Icing Images will maintain the current cost of these PGI-250/CLI-251 sponged cartridges, which are larger and hold more edible ink than other cartridge models. This series is refilled outside the printer. Refilling significantly reduces the cost of edible ink printing. Each cartridge can be refilled up to three times prior to requiring replacement.
Icing Images' Genesis printer packages comes with the latest Canon printer model and the new line of cartridges, filled with Icing Images' own brand of Gold Label Ink, an ink with truer colors and less fading than competitors' brands.
Icing Images has introduced numerous new products throughout 2013, including the Spellbinders® Sweet Accents™ for Icing Images®, the first and only food-safe die cutting and embossing system on the market. Since its release in February, the company has added 50 new food-safe dies and embossing folders designed to work with this system.
The edible imaging company is well known for their high quality, flexible Premium Icing Sheets™. This fall, they added Luster colors to this line to provide bakers and cake decorators with a shimmery icing sheet to expand their design possibilities. Icing sheets are used with the Sweet Accents system and electronic cutting machines such as the Silhouette Cameo to cut out designs for decorating desserts.
Icing Images' popular iDesigns™ software was expanded to offer over 1600 edible images licensed for edible use. Subscribers can select from a wide variety of designs to print from their own home or business printers to specifications they choose.
Shortly, the company expects to announce another revolutionary product in the sugar art industry.
"No matter what the decorating skill level, this new product is something that will absolutely wow our customers. The few people that have seen it have been so impressed with it that they are bursting at the seams. Just know that we are working very hard at getting this new, amazing product to the public as quickly as we can." – Deborah Coughlin, Icing Images owner.
iPrint™, Icing Images' free software-based program for uploading and printing customers' own photos and prints, will soon add additional, customizable options to accommodate customer requests.
Icing Images has been a leading distributor of edible pictures and edible paper art
supplies for over a decade. Edible picture supplies such as edible image printers, edible ink, icing sheets, and electronic and die cutters are used by cake and confection decorators throughout the world.