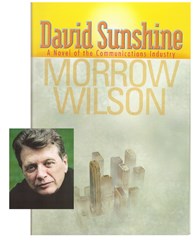 I had forgotten all about that blurb -- and there's a reason.
New York, NY (PRWEB) February 11, 2014
David Sunshine, a comic roman a clef of the "vast wasteland" of television in the bygone era of MAD MEN, was deemed "too hot to handle" by the publishing industry when it was originally written. Recently published (some 40 years later), the "new" novel has made its author a media darling, bouncing from interview to interview -- even though, as Morrow Wilson puts it, "David Sunshine has now aged from contemporary fiction to historical fiction."
Says Morrow Wilson: "Originally a publisher took it on, gave me what in those days was a princely advance, and then, at the last minute, backed out."
David Sunshine tells the tale of an innocent country boy who comes to New York City to make his career among the movers and shakers of the world of 1960s television. It is funny, sometimes heart-breaking, sometimes encouraging, and filled with the details of that colorful and optimistic era. Says Morrow Wilson, "I try my best to write in the spirit of Dickens and Mark Twain: books that make you laugh but tell a serious and worthwhile story." But, apparently, the novel caused too much worry about possible lawsuits among the cautious world of book publishing -- "unlike the people who published social novels in the 19th and early 20th centuries," says Morrow Wilson.
But before breaking its contract with the young author, the publisher sought and collected comments about the manuscript, from, among others, a man knee-deep in the scandalous world David Sunshine satirizes.
Keefe Brasselle, an actor and producer who enjoyed a sweetheart deal with top CBS brass so blatant it resulted in a lawsuit by CBS shareholders, was asked to comment, and endorsed Morrow Wilson as, "The sharpest assassin who ever aimed a typewriter at the television industry."
"I had forgotten all about that blurb," says Morrow Wilson, "till a few days ago -- and there's a reason for that:"
"When my editor called me to quote it to me, I said it was wonderful."
"The editor replied, 'Yes, I told him the same thing. And Keefe Brasselle said, "Why? Do you want me to read the book?" ' "