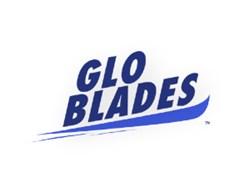 I love it! Glo-Blades bring two things to skating we all need: FUN and MAGIC!-- Doug Mattis / Pro Ice Skating Coach, Writer, Producer, Choreographer
Rohnert Park, CA (PRWEB) December 31, 2013
Glo-Blades are a new skating accessory that easily attach to both inline and ice skates and brightly illuminate the surface beneath the skaters' feet, providing for a unique, new effect of "Skating on Light !"™ The product utilizes super bright L.E.D. Lights (LED's) and patented wireless technology, with easy mounting that allows the skater to readily swap them back and forth between skates.
CEO and Founder Ralph Haney and his close-knit Executive and Product team are launching the KickStarter Campaign on January 1, 2014. The campaign will run for 60 days through March 1. The focus of the campaign is to provide seed funding for the initial production run of 5,000 units.
With this communication, the company, Glo-Blades International, Inc., launches its first pre-order campaign, as well as a new and improved logo, as showcased on the new website: http://www.globlades.com.
Wearable devices are clearly experiencing widespread adoption, innovation, and availability. There is a burgeoning, wearable technology market across the globe, and aesthetic clothing and accessories are now integrating computer and advanced electronic technologies. Glo-Blades will uniquely offer an unusual, personalized skating experience (filmable/postable and share-able) and be another compelling product entry to eventually garner domestic and worldwide acceptance in the wearable tech space.
While the world will be watching as Sochi, Russia hosts the 2014 Winter Olympic Games in February, global viewers, and especially Americans, will center on the figure skating competition for pairs and individuals. Competition figure skating predictably and consistently draws in a global audience. The Glo-Blades team will also be watching intently, expecting that this KickStarter campaign, which runs concurrently during buildup to the Winter Games, and during the Olympic fortnight, to attract the attention of the global figure skating world. The campaign offers many pledge-based rewards ranging in price between $1 and $10,000 (USD), rewarding backers with everything from a simple name listing on the GBI website, to pre-ordering the first Glo-Blades, to private lessons with celebrity skaters who accompany them on a Napa Valley Winery Tour. Some KickStarter campaign contributors may even receive private skating sessions with former U.S. Olympic Team skaters from the 2002 Salt Lake City Games.
The campaign video reveals 'Skating on Light' ice footage featuring top skaters Kim Navarro and Brent Bommentre (U.S. Championship medalists; Ice Theater of New York; America's Got Talent; Glee) performing complicated choreography that is greatly enhanced by the effect of their Glo-Blades. Here is a preview of the new KickStarter Video (which will be "live" on 1/1/14): Glo-Blades KickStarter Preview.
Testimonials abound from significant people in the figure skating industry, including Tai Babilonia and Randy Gardner (1979 World Champions, 5-time U.S. National Champions, and 1976 Olympic skaters), and Ryan Bradley (the 2011 U.S. National Champion and 3-time U.S. Collegiate Champion).
Tai Babilonia goes on record to proclaim:
"What a cool idea! Glo-Blades' possibilities are endless. I really like the effect."
Her former skating pair partner and World Champion, Randy Gardner, expresses that:
"Glo-Blades are a real blast, for sure!"
The U.S. National Champion from 2011, Ryan Bradley states:
"This is a brilliant product. So many cool opportunities!"
Utilizing a "capacitance touch technology model," the first Glo-Blades in production feature a strip of conductive cloth as a switch. Using rechargeable lithium ion batteries, and fingertip touch control (eventually with an accompanying wireless glove), the LED's are encased in super-strong, bulletproof polycarbonate tubing that is sealed to protect from moisture and dust. Ralph Haney proudly points out that:
"Glo-Blades were granted a full U.S. Patent in February of 2013 (#8,576,563) with a patent pending in Canada."
Glo-Blades will utilize wireless remote control and will readily integrate with other wireless technologies. Haney continues:
"Glo-Blades will talk to each other (think of the game "light tag"), will link to smart phones, tablets, and other wireless devices, and will also integrate on a venue or arena basis with stage lighting and sound, Wi-Fi and the Internet, and even pair up with our very cool, patented wireless glove that provides skaters fingertip control of their own colors and lighting effects."
Haney's ongoing vision is that a centralized controller could collectively control all Glo-Blades on the rink, in sync with music and other lighting effects, allowing show performers to skate their scripted routines focused on their choreography instead of the technology and/or control. Similar centralized control will be deployed for "Night Hockey," a revolutionary hockey experience featuring lighted pucks, goals and other lighted gear. The players' Glo-Blades would be controlled automatically, allowing them to focus on their game skills.
Ice Skating Industry support thus far has been stellar, with the Glo-Blades concept garnering testimonials from notable skaters and letters of intent from premiere venues in the skating industry.
http://www.northbaybusinessjournal.com/62932/innovation-glo-blades-born-in-local-ice-arena/
Skippy Baxter, the esteemed, late coach emeritus, of The Figure Skating Hall of Fame, went on record saying:
"I can't imagine a skating show that wouldn't be interested in Glo-Blades."
Glo-Blades CEO and Founder Ralph Haney concludes:
"Skating has been around for a very long time, but there haven't been many major developments since inline skates came along in the early 1980's. Equipment-wise, ice skating has lacked significant innovation over the past 20-30 years. Glo-Blades are the most revolutionary and exciting skating invention to appear in decades. People have been skating WITH light for a long time, wearing lighted jewelry and little LED blinkies on their skates, and the rinks provide varying degrees of theatrical lighting, disco balls, and popular music set to the mood. Glo-Blades, however, are the first opportunity to skate ON light, offering a whole new sensation and loads of fun."
And, Haney further states, "Glo-Blades provide an exciting, effective way to get kids off the couch, away from ubiquitous video games and screens, inspiring them to be more active. Skating outdoors at dusk in inline skates with Glo-Blades on is a real blast and much safer with the visibility of the LED's. A skater wearing Glo-Blades can be seen over a quarter-mile away. Ice skating outdoors at night with Glo-Blades is simply magical, and far safer, too. In a rink, or outdoors, Skating on Light is a great way to get kids moving again."
Kevin McCool, Rink Manager at Snoopy's Home Ice in Santa Rosa, CA (Redwood Empire Ice Arena) exclaims: "What kid wouldn't want them?"
About Glo-Blades International, Inc.:
Glo-Blades International, Inc., a Rohnert Park, CA-based entertainment and wearable tech company, with U.S. patent-granted (Canadian patent-pending) L.E.D. light-embedded product design, is poised for a product launch in 2014. The Company's mission is to engage families and skaters by providing a unique suite of transmedia tech products and a personalized skating experience (for ice skating and inline skating). The product embodies many colors and lighting effects, a personalized entertainment experience, and social interaction implications so that children and families may skate more together at rinks and in other skating venues. Incorporated in June of 2011, Glo-Blades International, Inc. has an office in Rohnert Park, California.
Ralph Haney, the founder and CEO, started the venture on a self-funded, shoestring budget for product development and legal work to secure the patent and the necessary Intellectual Property (I.P.) filings. Having worked through several prototypes, GBI now has a working model based on capacitance touch technology and is ready to mass-produce the product. With an impressive team of accomplished engineers, marketers, finance, e-commerce and product sourcing staff, GBI is poised to bring Glo-Blades to market in 2014. Utilizing a project manager on the ground in China, GBI has comprehensive sourcing solutions in place, ready to roll once adequate production funding is acquired.
Glo-Blades is on Twitter, Facebook, Pinterest, and Instagram. The Company Address for Glo-Blades International, Inc. / 1300 Valley House Drive / Suite 100-6B / Rohnert Park, CA 94928
More information can be found on the company website: http://www.glo-blades.com.
Contact:
Press Inquiries and Marketing: Randy Gordon Intergalactic, LLC, Randy Gordon – jayrandygordon(at)gmail(dot)com , (650) 346.8127