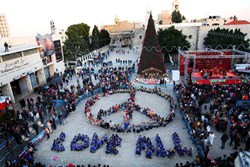 We are looking to generate a global musical prayer for peace and forgiveness through sacred types of music. It's the fastest way to move people into their hearts so that we can act with greater love
Los Angeles, CA (PRWEB) December 31, 2013
The message of forgiveness and high demand prompts MelliTV's rebroadcast of the Project Peace On Earth World Forgiveness Concert for Bethlehem on this New Years Day, 2014. Famed Rock, Opera and Country Grammy winners along with national best-selling thought-leaders headline The World Forgiveness Concert which is presently live on the internet at http://www.projectpeaceonearth.org/world-forgiveness-project-2/
MelliTV (MTC) http://www.mellitv.com/ , will rebroadcast the entire 2013 Project Peace on Earth Bethlehem World Forgiveness Concert on Wednesday (1.1.14) New Years Day. The air time of the New Years Day rebroadcast is scheduled for 10am (PST) and 1pm (EST). MTC is a multi-cultural music video and entertainment news channel that runs 24 hours a day and seven days a week. It is broadcast from the Galaxy 19 Satellite and also live-streaming from MelliTV.com to an estimated 80 million homes worldwide in the languages of Farsi, English, Turkish, Arabic, Armenian and Spanish.
Project Peace On Earth, LLC (PPOE) which is based in Los Angeles, CA., has a long established tie with the city of Bethlehem, the Palestinian Government and The Bethlehem Convention Palace (CPC/CCC), led by George Bassous. The PPOE World Forgiveness Concert features a video tribute to the life and legacy of Nelson Mandela which encourages each person to begin their own personal process of forgiveness. The PPOE website offers links for everyone to connect with its dedicated The World Forgiveness Project FACEBOOK page and begin this process of healing. PPOE's concert rebroadcast also announces it's plans to produce a LIVE global peace concert in Bethlehem Palestine on Easter Day 2014 called "Unite All" which will also feature a large aerial art image.
The World Forgiveness Concert for Bethlehem, features numerous performances of sacred and inspirational music from famed Rock and conscious HipHop stars, the world of Country, Opera and Contemporary/World music along with Grammy Winners and Nominees including: Stewart Copeland, co-founder and drummer of The Police; Pearl Thompson of The Cure/Robert Plant and Jimmy Page Tour who now teams with legendary guitarist Finbar O'Hanlon; Gary Nicholson, Country Music Grammy Winner; Sasha Cooke, 2012 Opera Grammy winner; Joanne Shenandoah, Native American Grammy Winner; David Arkenstone and Charlee Brooks, Grammy nominees; Beth Nielsen Chapman, Country Music Grammy nominee; Fox Lima, of the MMX Enigma Social Media Song and video; Miriam Stockley and Richard Gannaway of AO Music; Randy, Pamela and Sarah Copus of the group 2002; Kenji Williams of the Bella Gaia/NASA world tour; Itai Disraeli and Hagia Izraeli of the group Maetar; SEAY, award winning singer; Fritz Heede and Nijole Sparkis of Ritual Path; Kellee Maize, conscious HipHop/Rapper; Hani Naser, world-famed Oud player; and rising pop-star, Elijah Ray, of the group Band of Light. The World Forgiveness Concert also features messages from national best selling authors and thought-leaders: Gary Zukav (Seat of the Soul; 10 Million books sold, Oprah appearances); Don Miguel Ruiz (The Four Agreements; 4 Million books sold, Oprah appearance); Caroline Myss, Ph.D. (Anatomy of the Spirit, 3 Million books sold; Oprah appearances); and Jerry Jampolsky MD and Diane Cirincione PhD (Center for Attitudinal Healing, Oprah appearance). The concert also features videos of support from the Palestine Minister of Tourism Rula Ma'ayah and Bethlehem Convention Palace architect and GM, George Bassous.
According to Steve Robertson, Founder and CEO of PPOE, "We are looking to generate a global musical prayer for peace and forgiveness through sacred types of music. It's the fastest way to move people into their hearts so that we can act with greater love." When asked why the theme of forgiveness for the PPOE concert? Robertson replied, "Its very simple, Until we forgive we can not achieve love. If we know that the ultimate life purpose is to be loving and create peace on our planet, then why wait to begin this process. We always have the choice to create from fear or love. If we choose to create from love then we will watch miracles of peace occur that will impact future generations to come."
Shan Hashemizadeh, owner of the newly formed, FilmMakers Sanctuary Studio in Castaic, CA, a new 100,000 sq ft + Multi-soundstage Film/TV studio with 80 acres and Founder/Owner of MelliTV (MTC) also located in the Los Angeles area described why his TV network will rebroadcast the Forgiveness concert by stating, "What better way to begin the new year by inspiring people to forgive and begin fresh without the burden of judgement. You can not love, if you judge. I am in the Film and TV business to influence our world toward good. At MTC we aspire to promote content that will touch people's hearts and empower the understanding that we are all one family. Our new Film Studio will have a similar philosophical focus. The Filmmakers Sanctuary Studio will have an open house on Sunday January 5th from 1pm until 6pm.
The World Forgiveness Concert can be viewed online at: MelliTV (MTC) http://www.mellitv.com/
The MelliTV televised rebroadcast of the World Forgiveness Concert will air on Wednesday, New Years Day (1.1.14), at 5pm (PST) and 8pm (EST). Check local TV guides for its channel listing:
PPOE has a successful history of cultural peace initiatives in Palestine and the Middle East. On November 25th 2011, PPOE produced an aerial picture which was taken of nearly 1000 Palestinian refuge children forming the image of the Picasso Peace Dove and spelling out the words "Love All" plus the word for "love' in Arabic just at the base of the Mount of Temptation in Jericho. Steve Robertson, CEO of Project Peace on Earth (PPOE) and its team, led by international aerial artist John Quigley and United Nations Relief and Works Agency (UNRWA) produced the inspirational event. The Picasso Dove and Love All image was filmed and shot aerially to send out a message of love and hope to children and adults worldwide.
In September of 2012 the UN announced that the Picasso Peace Dove and Love All image was selected as one of 49 most iconic images in the history of the UN out of some 800,000 photographs.
The efforts of the PPOE organization are part of larger Middle East and Worldwide five-step peace process initiative. Towards this end, the PPOE team organizes inspirational music concerts, medical missions, art, dance events, social media and engagement activities to: 1) Reduce social tensions and re-enforce the possibility of peaceful relations. 2) Increase listening skills towards the promotion of inner peace and perceptual changes. 3) Foster the process of forgiveness and humanize dialog towards compassion. 4) Inspire the recognition of shared interests and commonalities of goodness. 5) Increase empathy and communication skills through "walk in the other person's shoes" experiences that promote social, political, spiritual, peace breakthroughs and actions.
Find out how you can help support Project Peace on Earth and its five-step worldwide peace initiative program by going to: http://www.ProjectPeaceOnEarth.org