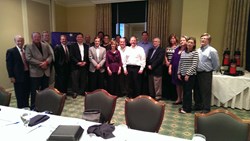 The excitement and energy of this leadership team is contagious. These volunteers have committed to contribute their unique skills and expertise to the expo. We are honored to have them on the team.
Lawrenceville GA (PRWEB) December 31, 2013
The second annual Georgia Manufacturing Expo will be held on June 13th and 14th at the Gwinnett Center. This event will showcase Georgia manufacturing people, products and plants. The highlight of the event will be over 100 Georgia manufacturers exhibiting their products and services. In addition to the two day Expo, a series of year-round programming has been established to spotlight and support Georgia manufacturers. To assist in overall strategy and execution, the Georgia Manufacturing Expo is excited to announce its 2014 Honorary Advisory Board and Leadership Team.
"For a first year show, the 2013 Georgia Manufacturing Expo was a success in large part because of a small group of dedicated volunteers and one part time intern. The goal of assembling this advisory board and leadership team is to increase the reach of the 2014 expo as well as gain the perspectives of this amazing group of leaders," said Jason Moss founder of the Georgia Manufacturing Expo.
The 2014 Honorary Advisory Board consists of nine leaders representing a diverse group of organizations and companies, all involved within the manufacturing industry in various ways. This Board will convene to contribute perspective to the overall strategy of the Georgia Manufacturing Expo:

Dr. Dan Kaufman, President of Gwinnett Chamber
Cris Tarquinio, Regional CFO of Ryerson
Clyde Strickland, Founder of Metro Waterproofing
Jim Jones, Vice President of Dixie Industrial Finishing
Gus Whalen, Chairman, Warren Featherbone Foundation
Jim Severnak, Volunteer, Georgia DECA and Department of Education Marketing Certification
J.K. Murphy, Vice President/Content
Sharon Bartels, President of Gwinnett Technical College
Scott Luton, Founding Partner of Riverwood Associates
In addition to the Honorary Advisory Board, the Georgia Manufacturing Expo will again rely on a distinguished group of Leadership Team members to carry out a wide variety of duties.
"The excitement and energy of this leadership team is contagious. These volunteers have committed to contribute their unique skills and expertise to the expo. I am honored to have them on the team," said Moss
The 2014 Georgia Manufacturing Expo Leadership Team:

Elizabeth Wright, Founder of Networking Works
Ed Bishop, Sales and Service Manager of Murray Plastic
Denise Lawrence, Development Consultant of My Charity Consultants
Monique Murray, Marketing Consultant at My Charity Consultants
Charlie Post, President of TSI Solutions
Nathaniel Thomas McGill, partner at Life is My Movie Entertainment
Lance Lessard, Territory Development Manager at MLC CAD Systems
Karen Backus, Field Agent for Avion Energy
Steve and Vivian Eckman, Owners of Minuteman Press Duluth
Ward Council, Attorney
Mark Preston, Founding Partner at Riverwood Associates
Michelle Harris, Marketing Director at W&K Industrial Services
Cindi Lipper, Sales Manager at Impact Staffing
Ann Sechrist, Director, Economic Development at Gwinnett Technical College
Tom Klatt, President of KD Manufacturing
Alex Simmer, Vice President at Bank of North Georgia
To learn more about the Georgia Manufacturing Expo, including information on how to register, exhibit or sponsor, visit http://www.georgiamanufacturingexpo.com OR contact Jason Moss at 678-896-9312 – Jason(at)georgiamanufacturingexpo(dot)com.
The mission for the EXPO is simple: to support and grow the manufacturing industry in the state of Georgia. The organization carries out its mission in a number of ways: helping to create awareness of the industry in Georgia; offering special training and learning opportunities; educating business and individual consumers about the products made in our state; recognizing the successful contributions of manufacturers and their employees throughout Georgia, and much, much more. There are more than 9,500 manufacturing facilities which employ around 350,000 Georgia residents and the EXPO will spotlight these plants, products and people. The EXPO is free to attend by pre-registering online at http://www.GeorgiaManufacturingExpo.com.